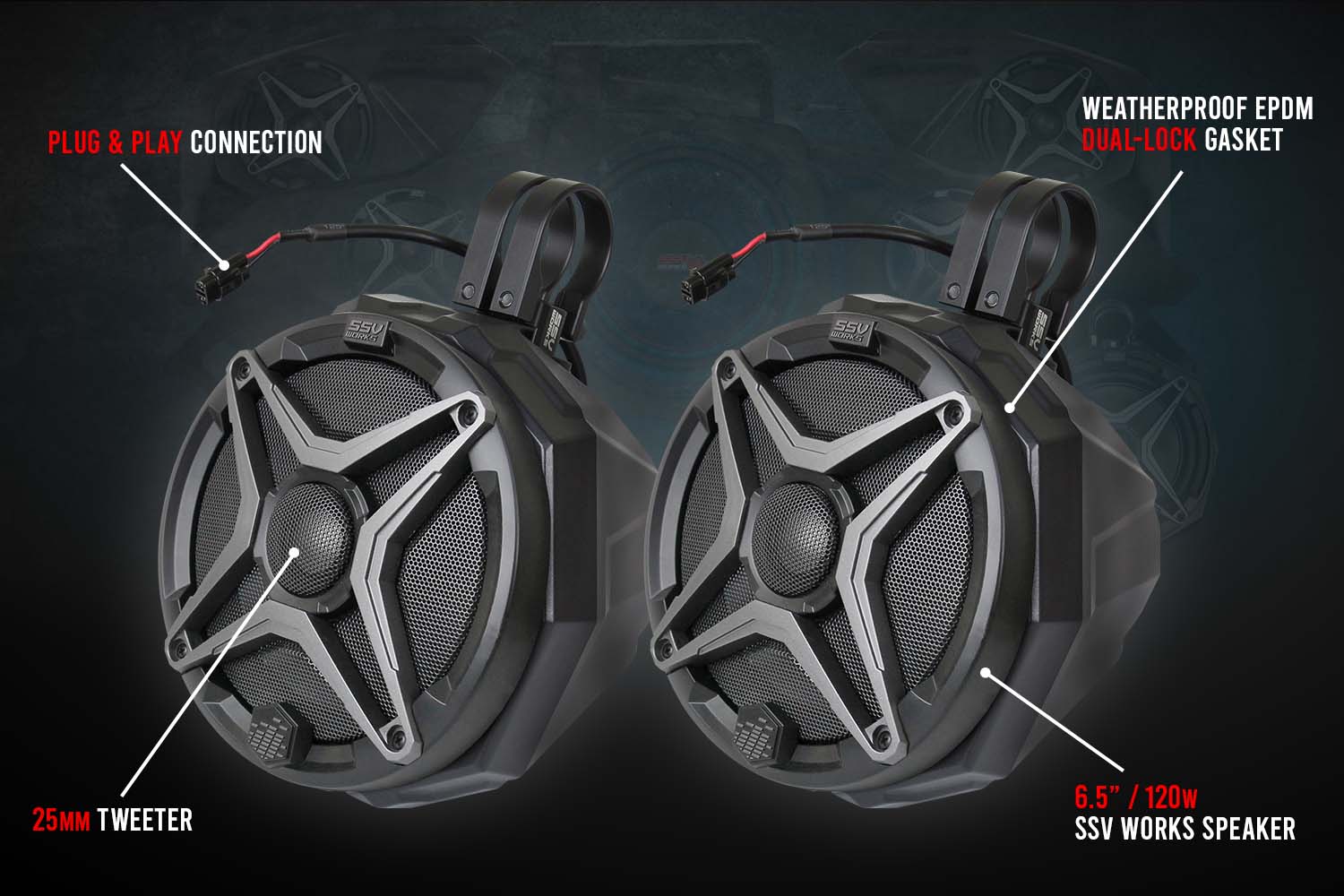 Universal 6.5in Cage-Mounted Speaker-Pods
---
Regular price

Price:

$399.99 USD

Regular price

Sale price

$399.99 USD

Unit price

per
View Vehicle Compatibility
Universal 6.5in Cage-Mounted Speaker-Pods
SSV Works is the first company to integrate audio in side-by-sides. We have pioneered all the great features you find in audio-systems today. From plug-&-play kit solutions, true weatherproof ratings, to factory fit and finishes, SSV has set the standard in UTV audio from the very beginning!  

Plug-&-Play: No Soldering, cutting or crimping! Designed to install as easy as possible. Simply bolt down the speaker enclosures with the pre-installed speakers, run the vehicle specific plug-&-play wiring, turn the key and go! Made to install as easy as possible, you spend less time wrenching and more time riding!
Factory Fit and Finish: Each kit looks just the way it should, like it came straight from the factory. Purpose built, our enclosures match the factory styling and fits with seamless precision.
Trail Ready: Built for the off-road environment, SSV Works' audio components will withstand all the harsh riding conditions. From sand, dust, water or snow, you can ride your favorite trails without sacrificing premium audio from SSV Works.

Configure Options:
SSV Works Speakers
Kicker Speakers
Unloaded

Included: 
Cage-Pods with Dual-Band Clamps (choose size)

All Mounting Hardware
Pre-Mounted/Wired Speakers (if purchasing with speakers)
Step-by-Step Installation Instructions
SSV Works Colored Speaker Grilles:
SSV Works Speakers come standard with changeable Grey Speaker Grilles. After adding this kit to your cart, you'll have to the option to add Red, White, Blue or Orange speaker Grilles to your order to customize the look of your kit and vehicle. 
Patent: #10117008
Coming Soon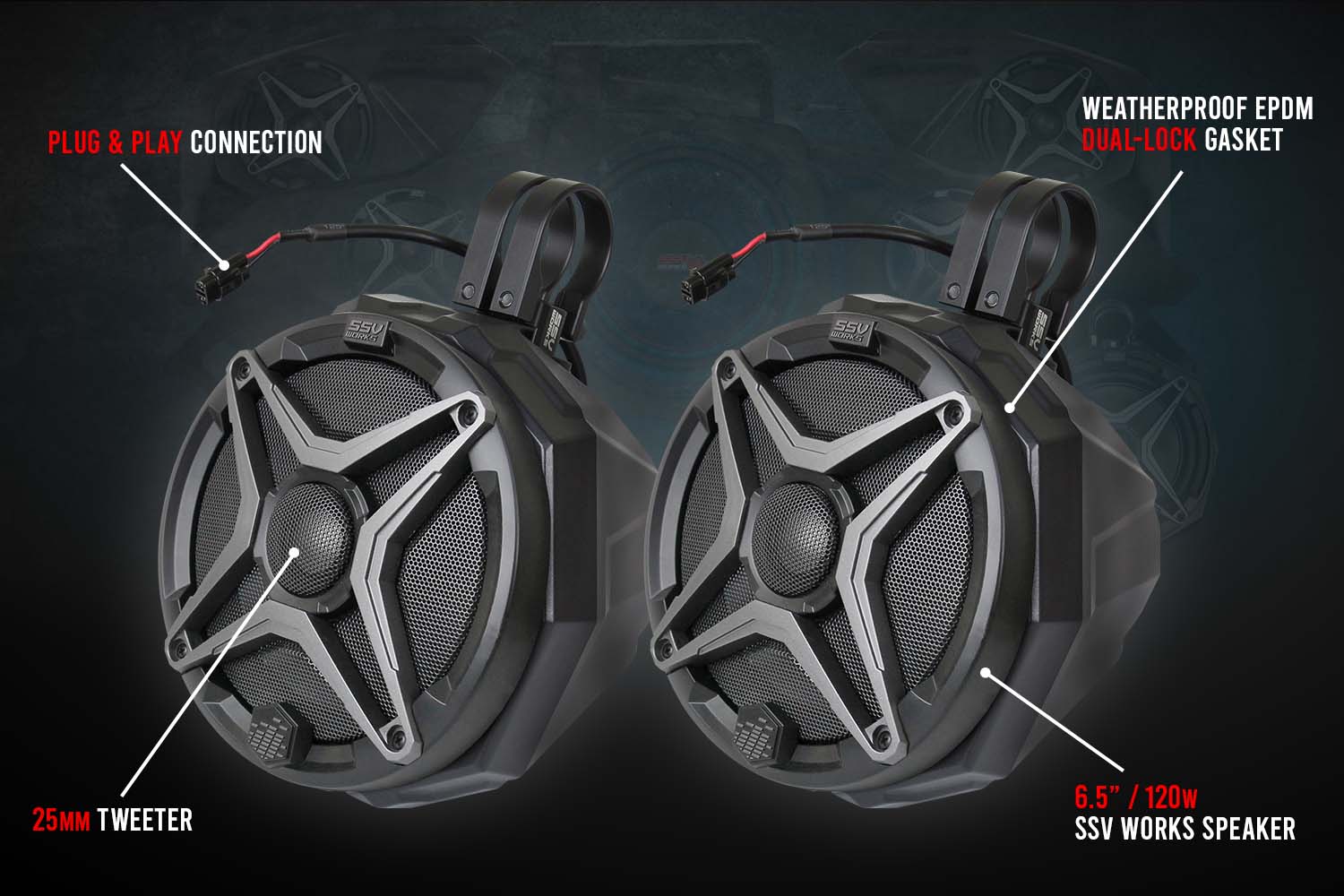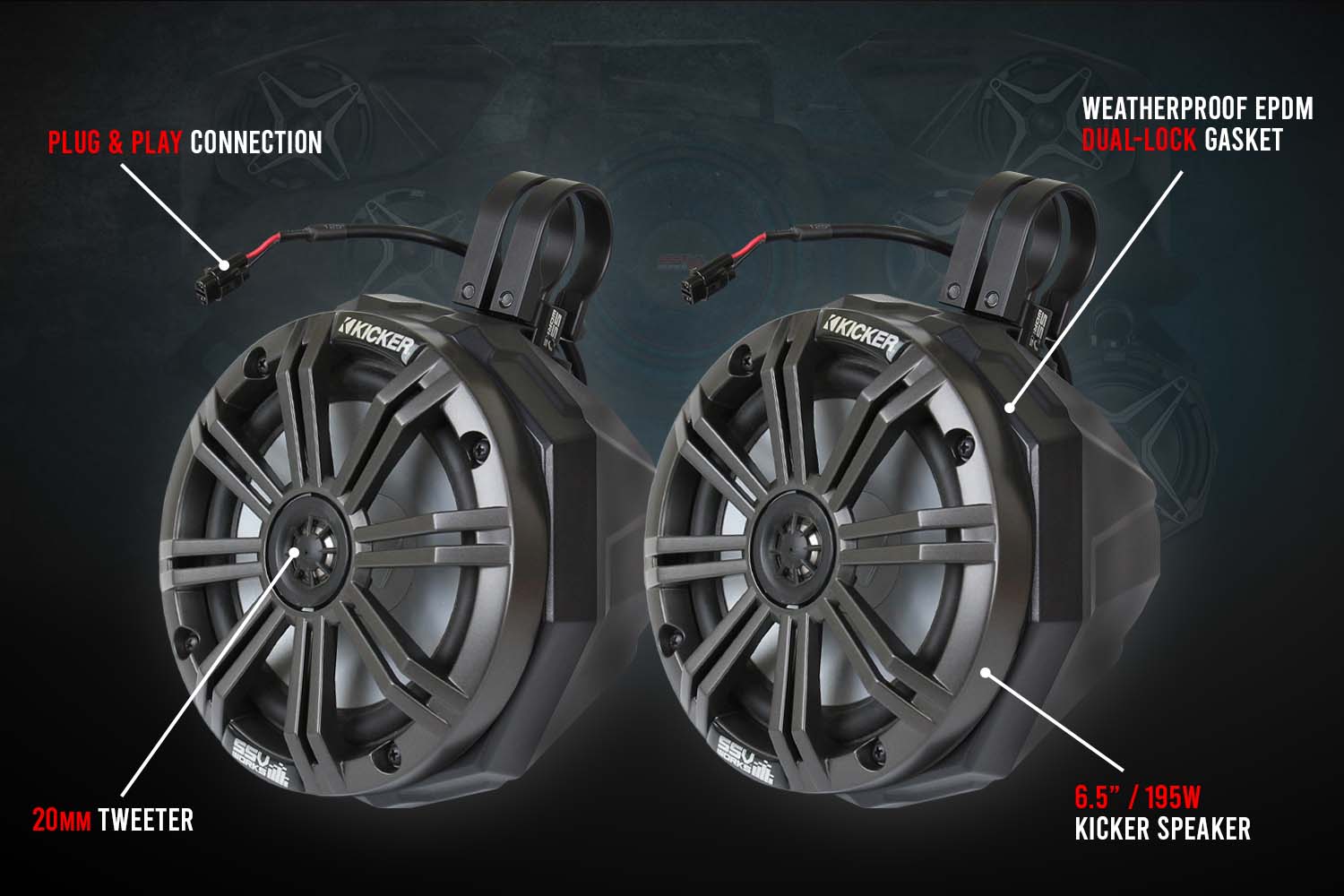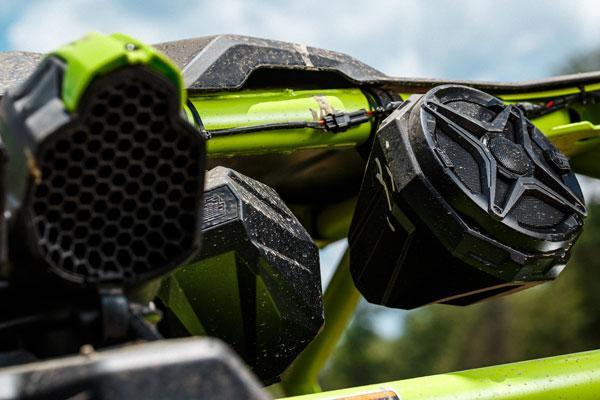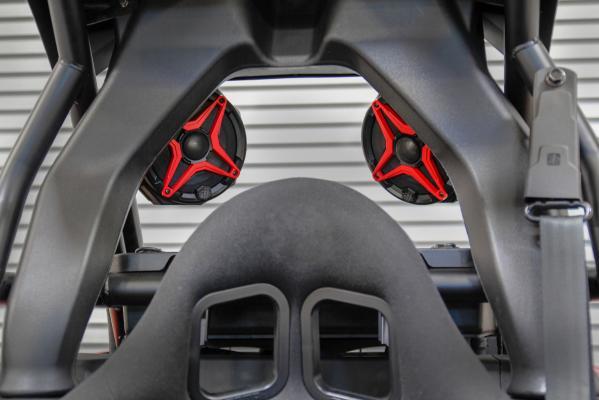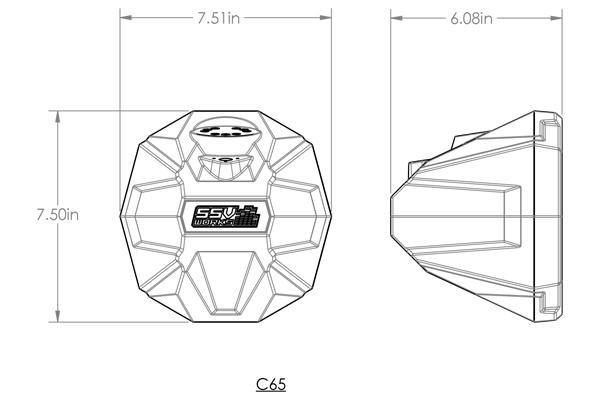 What is the mounting depth?

Max mounting depth is 4.72"

I have an 0SS22-HL6-A00 installed on my Talon. What wiring harness would I need to connect these?

B-H1913 extension harness and B-H2195 plug & play harness

I have the MRB3 overhead unit 2018 Honda Pioneer 1000-5 and want to add two pods to the back of the Honda for the back seats. Will the pods plug in play into the unit or do I need to buy additional wiring and amp to make it work and sound good

You would need the B-H1913 and the B-H2195 harnesses to make that plug & play

I have a SSV Works - WP3-DF04 - OVERHEAD 4 SPEAKER KIT CAN AM DEFENDER unit. Are these speakers compatible with the unit I currently have? Does the existing unit have extra speaker plugs to accommodate these? Is the existing unit powerful enough to support these extra speakers?

If you are looking to add more speakers to the Defender with the DFO4 overhead system, you would need these pods instead:

CanAm Defener Cage-Mount Pods Including Clamps with 120watt 6.5" Speakers – SSV Works

Can this speaker be hooked up up to an amp. And if so how big of an amp can I run?

Yes, our speaker pods can be hooked up to an amp. The power rating on the speakers are as follows:

SSV Works A6 Speakers: 120 watt peak / 60 watt RMS

Kicker Speakers: 195 watt peak / 65 watt RMS

Do you offer overhead/ rear speakers for the Yamaha Rmax 2 le with the Yamaha rear sliding glass window? If so, part # please

Unfortunately we do not make overhead speaker pods for the 2 seater. Please contact customer service at 818-991-1778 for possible other options

Can these work with my ride command head unit? If so will I need anything else along with the pods or are they plug and play for it too? Thanks

Our universal cage mount pods are plug and play with SSV Works stereo components. If you are looking to have our pods be plug and play to Ride Command, please reach out to our customer service department at 818-991-1778 and they can go over the many different options we have available for that.

Does these come with a amplifier?

Unfortunately no, these pods are not amplified

If my polaris ranger crew has a rear windshield will these speakers still fit good

Unfortunately not. They will not work with a back windhsield. However, you could use the following cage pods and mount them to the center bar up top and face them backwards.

 

Can these be used in tandem with a factory glass rear window ?

Unfortunately our pods do not work with the back windshields installed

Can these rear speakers be mounted in a 2022 Polaris Ranger XP 1000 NorthStart Edition that has the roof and roof liner?

It is possible on the Crew Cab Model. There is a round roll cage bar that is between the front seats and the rear seats that is hidden by the roof liner. With small modifications, consumers have made the cage mount pods work right there.