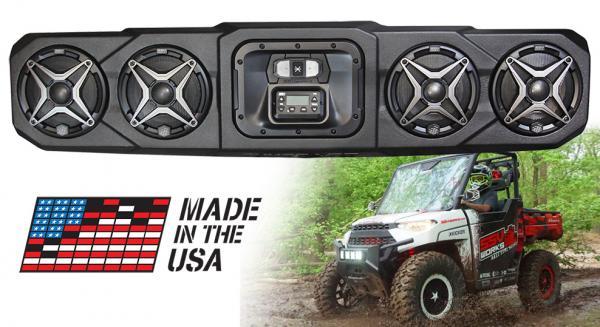 2018-2024 Polaris Ranger 4-Speaker Overhead Sound Bar
---
Regular price

Price:

$849.99 USD

Regular price

Sale price

$849.99 USD

Unit price

per
View Vehicle Compatibility

2017-2024 Ranger XP1000
2017-2024 Ranger XP1000 Crew / EPS
2017-2024 Ranger XP1000 EPS
2017-2024 Ranger XP1000 EPS Premium
2017-2024 Ranger XP1000 EPS Premium Crew
2017-2024 Ranger Diesel / HST / HST Deluxe

*Not compatible with:
-Windshield wiper
-Rear-view mirror
-Full glass windshield (does work with plexi-glass windshield)
Plug-&-Play Overhead System for Polaris Ranger with factory cage
SSV Works is the first company to integrate audio in side-by-sides. We have pioneered all the great features you find in audio-systems today. From plug-&-play kit solutions, true weatherproof ratings, to factory fit and finishes, SSV has set the standard in UTV audio from the very beginning!  
Our WP Overhead Systems are a great entry level system that installs in minutes! The speakers and MRB3 Bluetooth Media Unit come preinstalled, so all you need to do is simply drop the enclosure into your factory cage, run the power and ground cables, and you're good to go!
Plug-&-Play: No Soldering, cutting or crimping! Designed to install as easy as possible. Simply bolt down the speaker enclosures with the pre-installed speakers, run the vehicle specific plug-&-play wiring, turn the key and go! Made to install as easy as possible, you spend less time wrenching and more time riding!
Factory Fit and Finish: Each kit looks just the way it should, like it came straight from the factory. Purpose built, our enclosures match the factory styling and fits with seamless precision.
Trail Ready: Built for the off-road environment, SSV Works' audio components will withstand all the harsh riding conditions. From sand, dust, water or snow, you can ride your favorite trails without sacrificing premium audio from SSV Works.
Expandable: Each WP system is expandable. Adding on one of our vehicle specific, amplified subwoofers or Universal cage-pods speakers makes for the ultimate riding experience 
Included: 
WP Overhead Enclosure

(4) 6.5" SSV Works Powersports Speakers
MRB3 Bluetooth Media Receiver
Mounting Hardware
Step-by-Step Installation Instructions
SSV Works Colored Speaker Grilles:
SSV Works Speakers come standard with changeable Grey Speaker Grilles. After adding this kit to your cart, you'll have to the option to add Red, White, Blue or Orange speaker Grilles to your order to customize the look of your kit and vehicle. 
Patent: #10117008
Coming Soon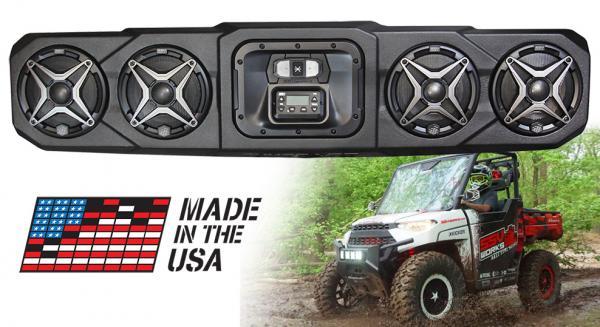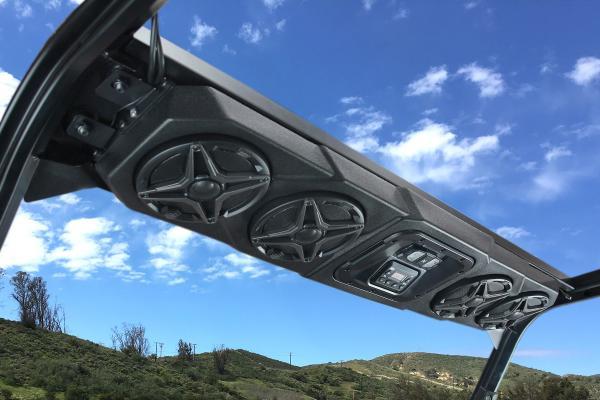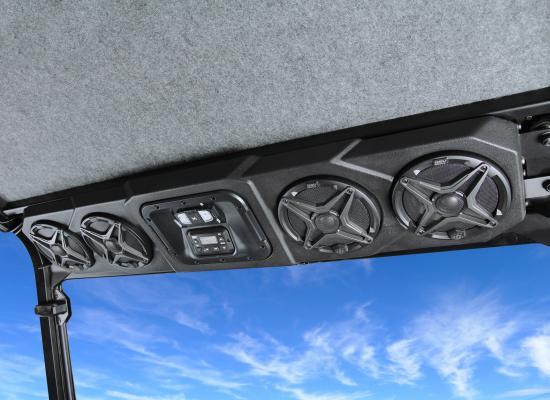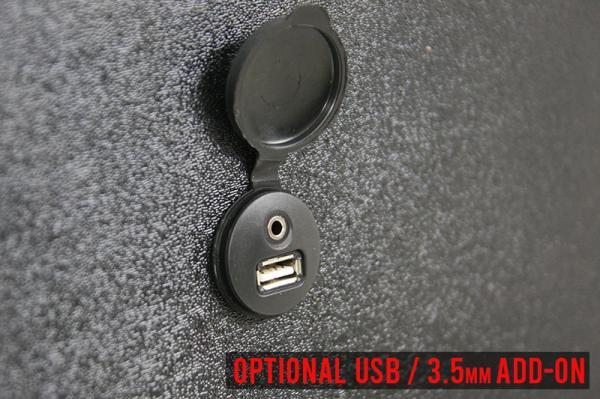 will this fit on a 23 commander max (4 seater)? And does it have a Bluetooth sub option?

Unfortunately, no this sound bat will not work on the Commander. It is specifically designed for the Polaris Ranger. Please reach out to our customer service department at 818-991-1778 and they can assist you with what we have for your machine.

Will the overhead visor soundbar work with a full poly windshield. It doesn't raise up or anything. Just a solid poly windshield.

Shouldn't be an issue

I have a 2022 ranger ep 1000 will this fit my ride with a glass windshield?

Our sound bar may not work withy all makes and models of windshieds for that machine. Please contact cu8stomer service at 818-991-1778 and they can assist you more

I have this unit and I was wondering if there is an option to replace the ssv works speakers with kicker.

Best thing to do would be to reach our customer service department at 818-991-1778 and see what can be done.

Looking to add a sub and two kicker speakers what do I need to buy for that to be a plug and play with this system

When purchasihn the 2 Kicker speakers, there will be an option for the "plug & play harness". You will need this option. Regarding the subwoofer, if you are wanting the add our "WP-RG4SB10" subwoofer, It will already come with what is needed to be plug & play to the overhead. If you are wanting to use just the subwoofer enclosure and use your own amplifer and subwoofer, you will need our WP-HRCA adapter. This adapter converts the "line out" plug from the overhead system to RCA's. This will allow for you to run RCA's from the overhead to your external amplifier.