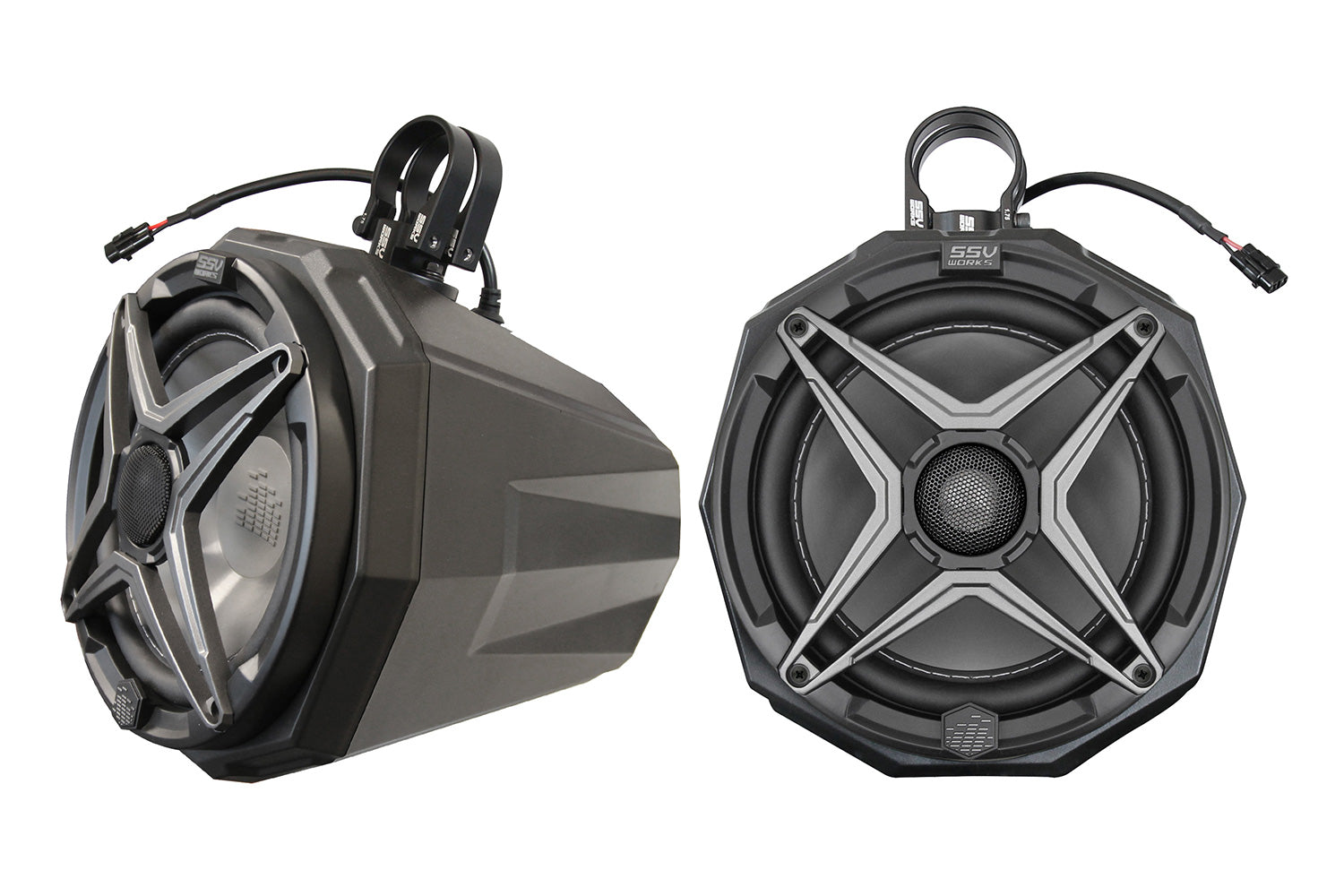 Universal 8in Cage-Mount Speaker-Pods
---
Regular price

Price:

$599.99 USD

Regular price

Sale price

$599.99 USD

Unit price

per
View Vehicle Compatibility
Universal 8in Cage Mount Speaker Pods
SSV Works is the first company to integrate audio in side-by-sides. We have pioneered all the great features you find in audio-systems today. From plug-&-play kit solutions, true weatherproof ratings, to factory fit and finishes, SSV has set the standard in UTV audio from the very beginning!  

Plug-&-Play: No Soldering, cutting or crimping! Designed to install as easy as possible. Simply bolt down the speaker enclosures with the pre-installed speakers, run the vehicle specific plug-&-play wiring, turn the key and go! Made to install as easy as possible, you spend less time wrenching and more time riding! Not installing these on an SSV Works audio system? No problem, simply cut the connector off and wire them to your system.
Factory Fit and Finish: Each kit looks just the way it should, like it came straight from the factory. Purpose built, our enclosures match the factory styling and fits with seamless precision.
Trail Ready: Built for the off-road environment, SSV Works' audio components will withstand all the harsh riding conditions. From sand, dust, water or snow, you can ride your favorite trails without sacrificing premium audio from SSV Works.

Configure Options:
SSV Works Speakers
Kicker Speakers
Unloaded

Included:
Cage-Pods with Dual-Band Clamps (choose size)

All Mounting Hardware
Pre-Mounted/Wired Speakers (if purchasing with speakers)
Step-by-Step Installation Instructions
*SSV Works Speakers come standard with changeable Grey Speaker Grilles. After adding this kit to your cart, you'll have to the option to add Red, White, Blue or Orange speaker Grilles to your order to customize the look of your kit and vehicle. 
Patent: #10117008
The 25mm Ti- tweeter creates crisp brilliant highs engineered to be heard outdoors, even in a helmet…over the motor…haulin' down the trails. The grille mounted tweeter allows for peak cone clearance and maximum output while providing a low profile with optimal weatherproofing.
SSV Works speakers feature a unique positive lock connector to prevent speaker wire detachment inside the enclosure. No matter how hard you drive, your speakers will keep on rockin'.
Marine speakers are great for boats; however boat speakers don't get as wet, dirty or muddy as you do in a Side X Side. WP-A6 speakers feature an EPDM duo lock gasket surrounding the speaker to keep the water out and the sound pressure in. EPDM conforms to the surface and seals tight no matter where you ride, in direct UV, extreme heat, or in freezing temps.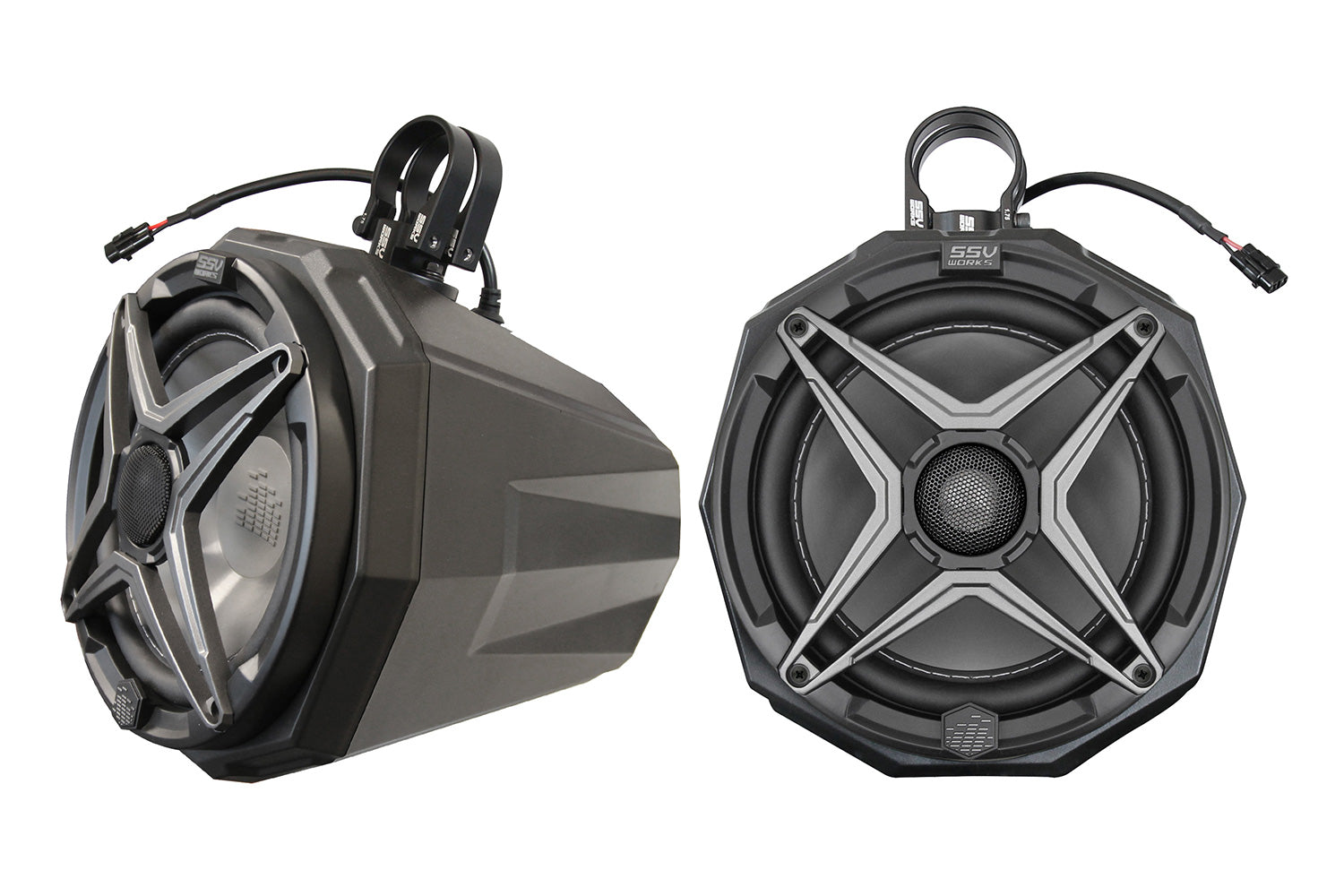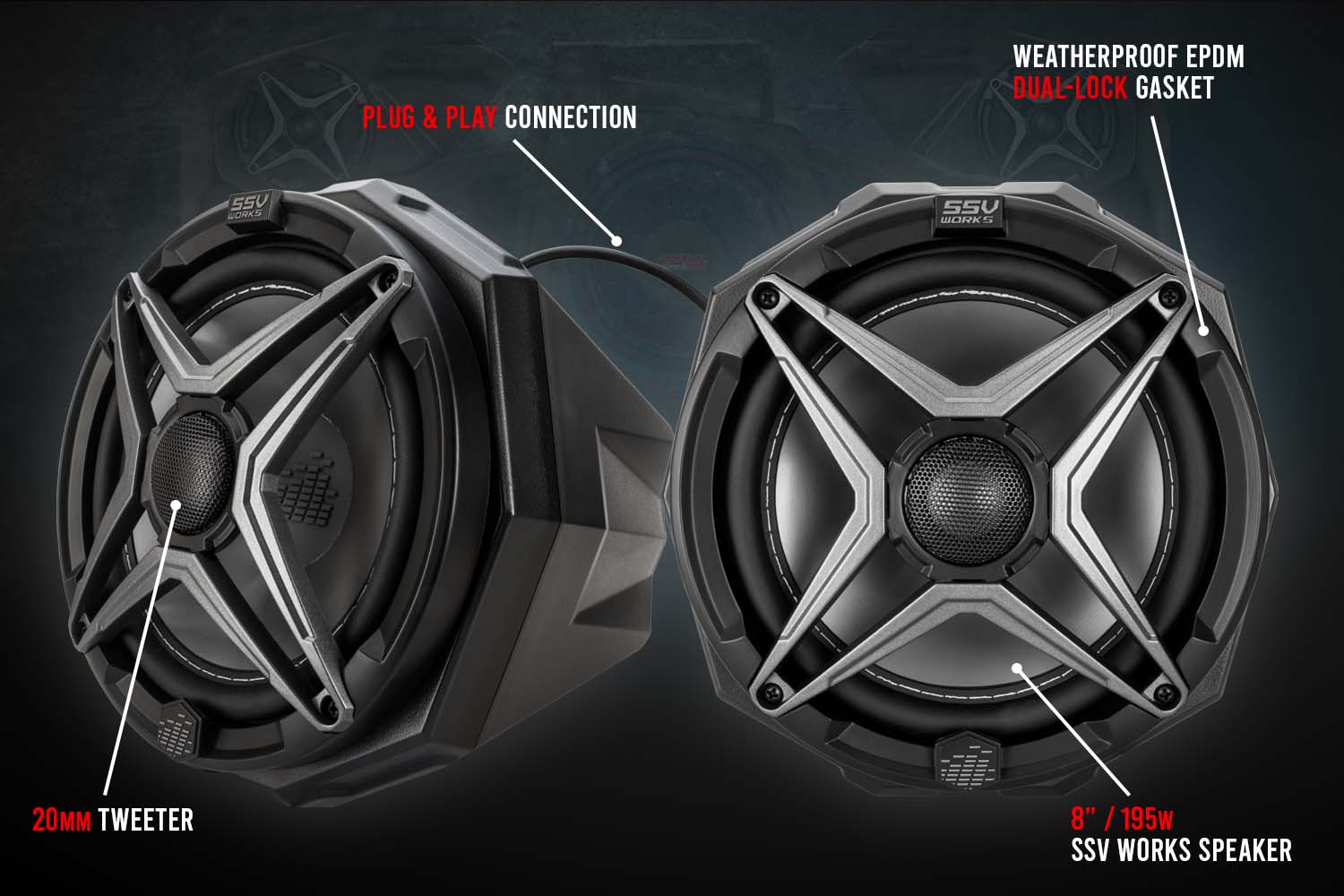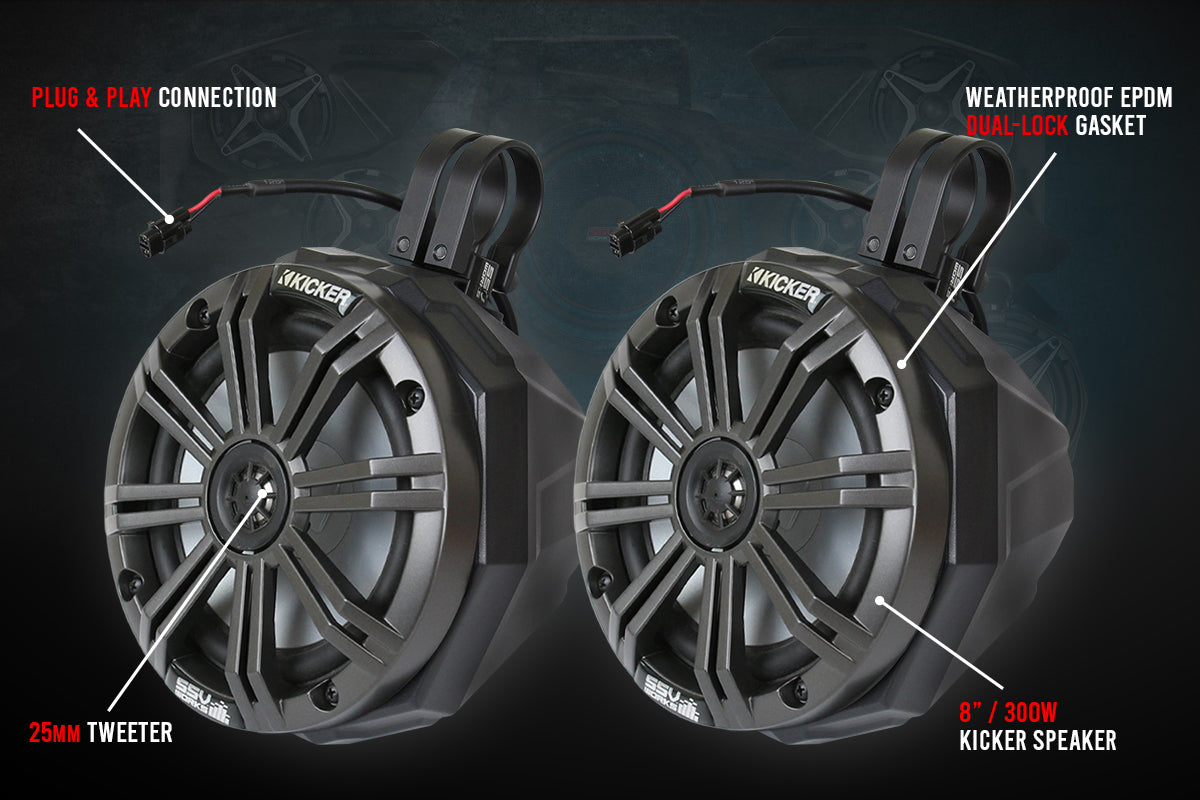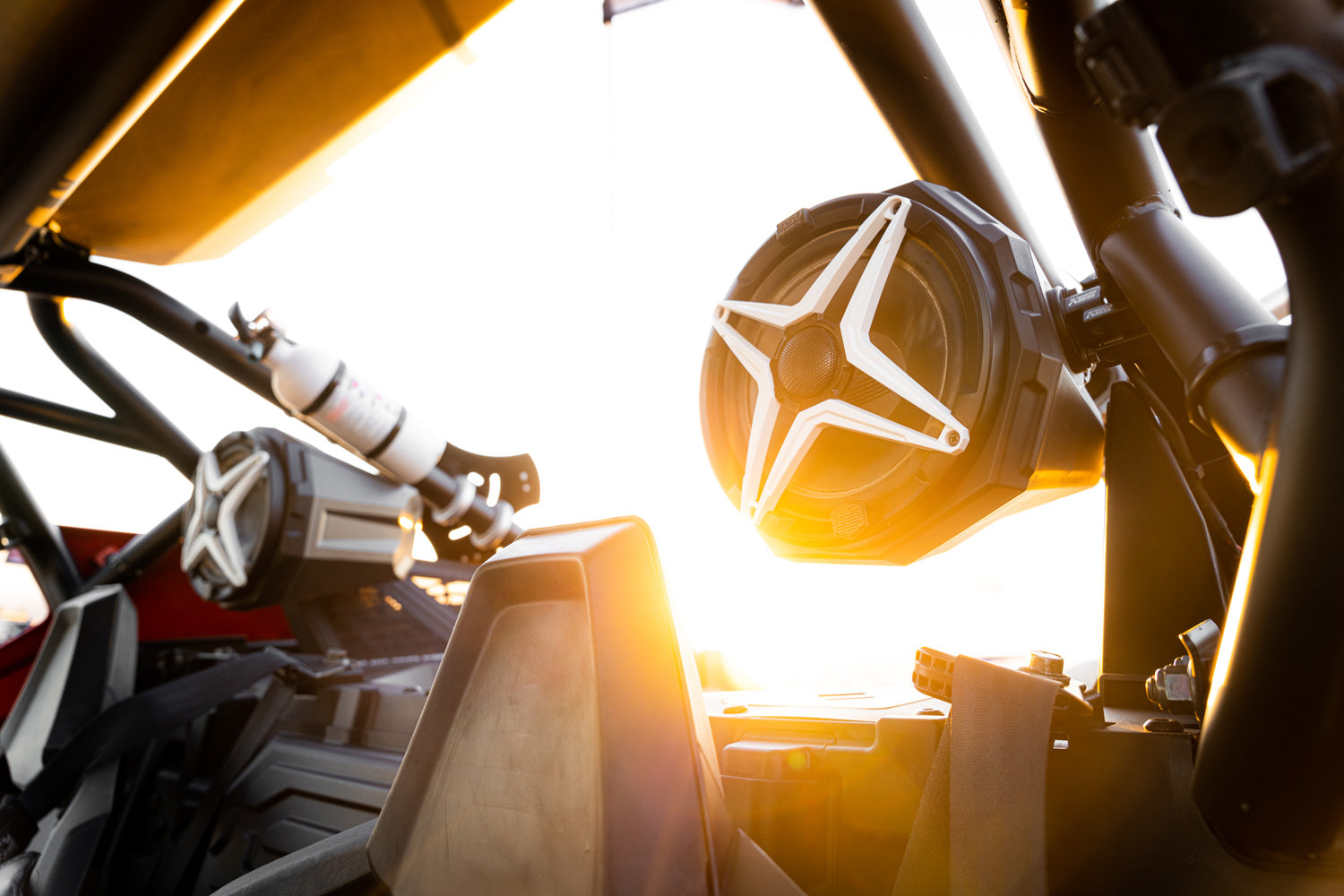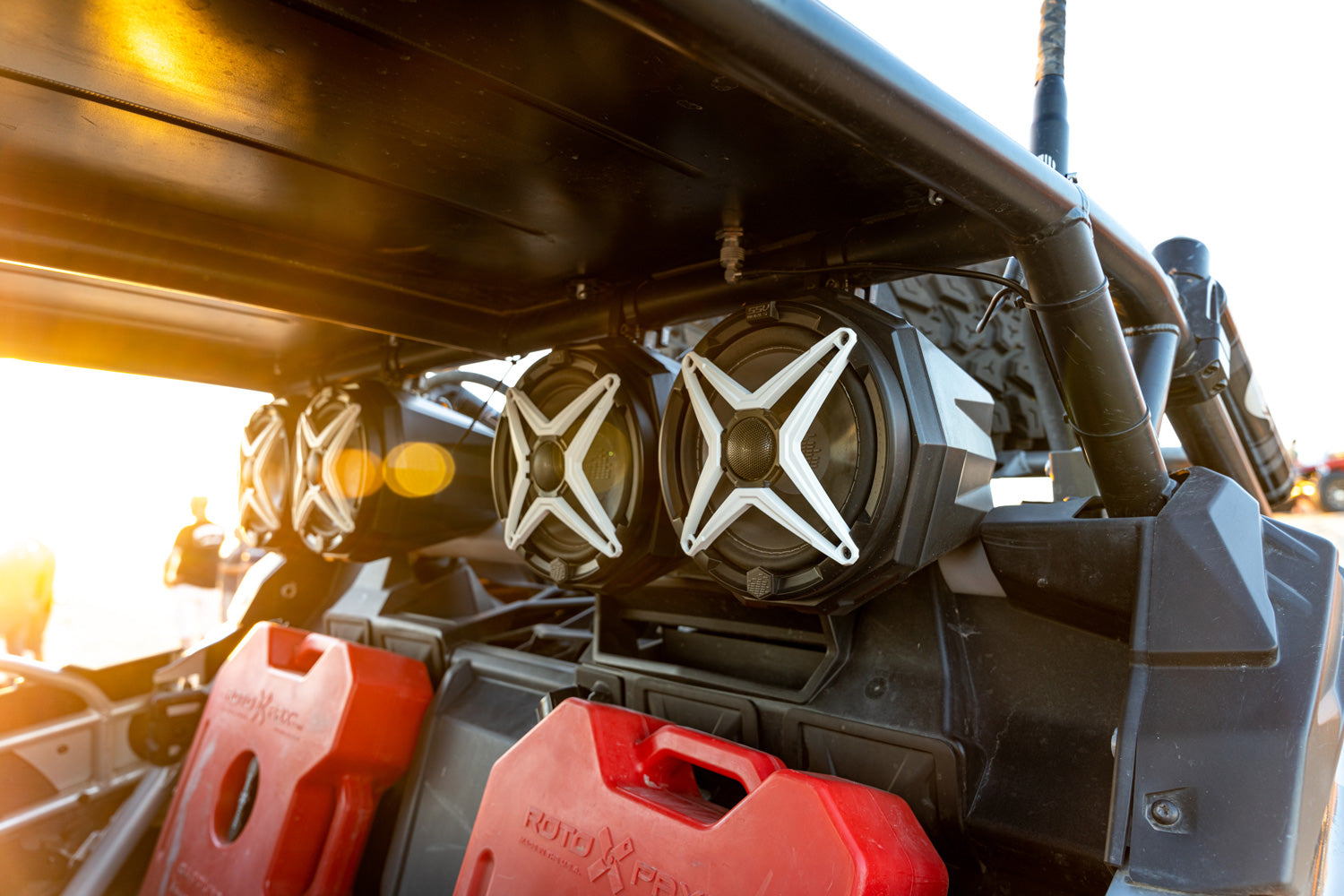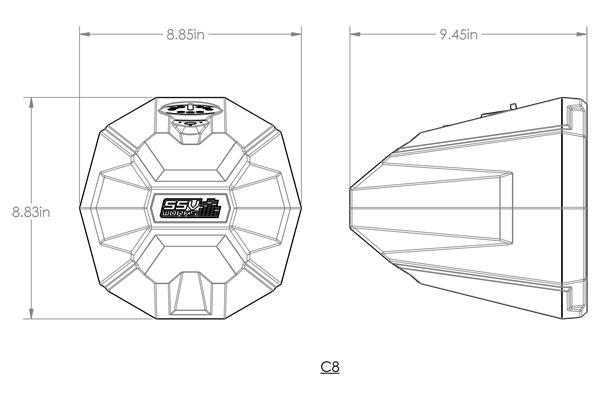 Will these work with my overhead wp system?

Yes, our 8" cgae pods can be plug & play to our WP overheads. You will need a couple of harnesses to go with that though. Part numbers are B-H1913 and B-H2195

the 599.99 price tag is that unloaded or with speakers??

The $599.99 price is for the speaker pods loaded with SSV Works speakers

Are these pods self amplified ?

Unfortunately, no these are not self amplified. You will need to use amnplifier in order for the speakers to work

Do the 8" kicker pods come with all the wiring to run to the own plugs under the seat of an rmax 1000-4?

It is best that you contact our customer service department at 818-991-1778. This way they can be sure to get you everything needed to complete a plug & play option of adding these speakers

Whats the watts on these?

Depending on the speaker option you choose, the wattage on the speakers are as follows:

SSV Works 8" Speakers:  150 Watt Peak / 75 Watt Rms

Kicker 8" Speakers: 300 Watt Peak / 150 Watt RMS

Are thay Bluetooth

Unfortunately, no the speakers pods are not bluetooth.

Is the $599.99 price per speaker, or for two (2) speakers?

Our cage mount pods are sold in pairs

Will the work fine with the rocker switch only?

Yes, the MRB2R can power the 8" cage mount pods

WILL THESE WORK WITH THE RIDE COMMAND SYSTEM ? DO THEY NEED THEIR OWN AMPLIFIER ?

Unfortunately, these speaker pods will need to be powered by an amplifier in order to work with the Ride Command