Polaris RZR Glove-Box 10in Subwoofer Enclosure
---
Regular price

Price:

$549.99 USD

Regular price

Sale price

$549.99 USD

Unit price

per
View Vehicle Compatibility

2014-2021 RZR 900
2015-2021 RZR 900 XC
2014-2018 RZR 900 EPS
2014-2021 RZR S 900
2017-2021 RZR S 1000
2014-2021 RZR XP1000
2016-2021 RZR Turbo
2019-2021 RZR Turbo S
2018-2021 RZR XP Turbo Dynamix Edition
2019-2021 RZR XP 1000 Trails and Rocks
2014-2021 RZR XP High Lifter
2021-2022 RZR Trail Ultimate
2021-2022 RZR Trail S 1000 Ultimate

SSV Works' Glove Box Subwoofer is a must for adding a 10" subwoofer to your Polaris RZR Turbo S or XP1000! this sub box easily installs right up in the dash with no cutting or modification required to your Polaris RZR. 
Roto-molded, our subwoofer enclosure is built with both performance and durability in mind. Designed with the proper airspace required for a 10" subwoofer, you will feel the full potential of your subwoofer while hitting the trails. Mud, dirt, water or snow, the SSV Works subwoofer enclosure can handle it all!
What makes our enclosure different from others on the market? SSV Works is the original designer of the under-dash sub enclosure for the for the Polaris RZR. We were also able to allow you to retain a glove compartment while providing the proper amount of airspace within the sub box for deep, rich bass. Lastly, our box is sealed rather than ported. This ensures proper weatherproof sealing, giving you the peace-of-mind that everything from water to dust stays out!
 

Configure Options:
SSV Works V Series: 10" - 1000 watt (500w RMS)
Kicker Comp RT Subwoofer: 10" - 800 watt (400w RMS)
Unloaded: Install your own subwoofer

Included:
Subwoofer Enclosure
All Mounting Hardware
Pre-Mounted/Wired Subwoofer (if purchasing with sub)
Step-by-Step Installation Instructions
*Not compatible with heater equipped vehicles* 
Patent: #10531169

Coming Soon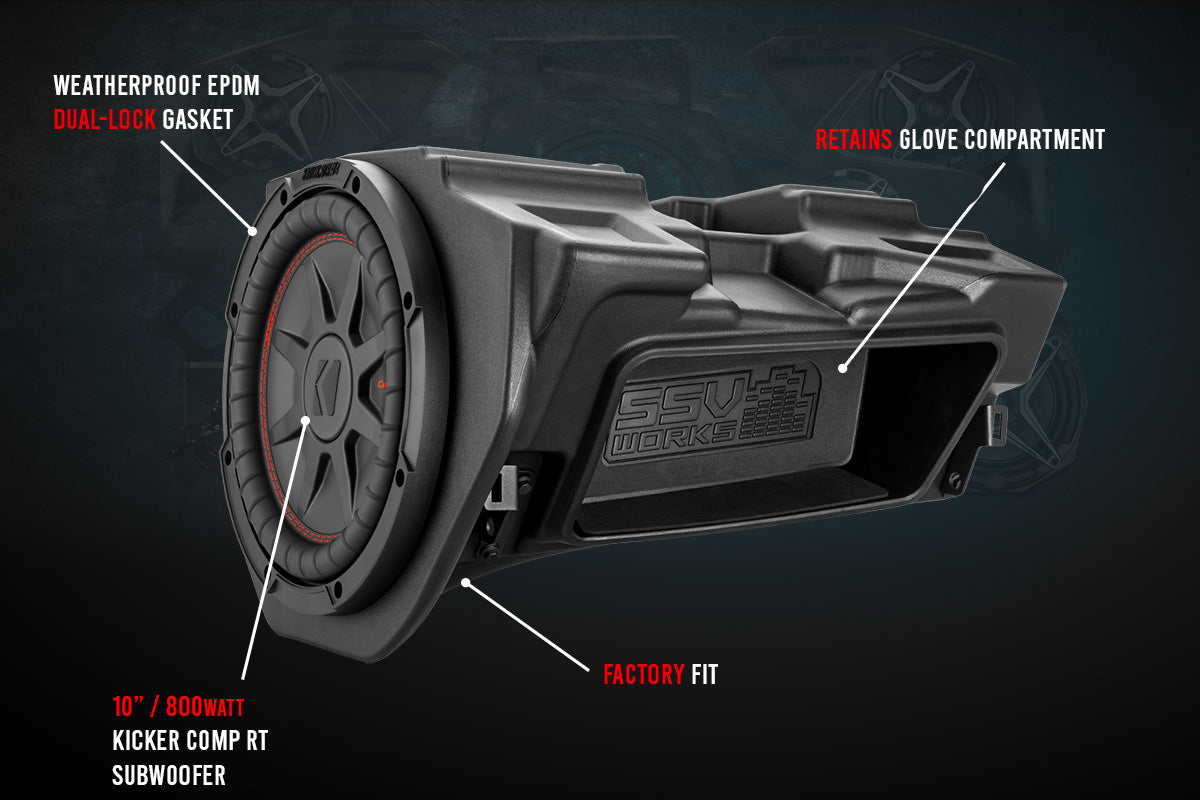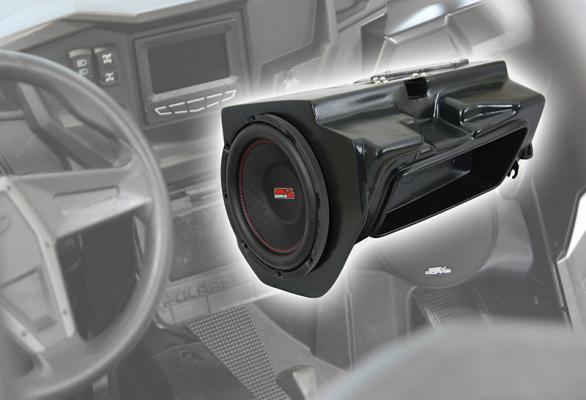 will this fit a 2013 rzr 900 xp4 ?

Unfortunately, no this unit will not fit that year machine. If you are looking for a subwoofer enclosure for your machine, you cabn try searching online. The enclosure we used to make for that machine is a RZ-UDSB10

Will this fit a 2023 rzr s1000 trail??

There should not be any issue with fitment, although, we have not confirmed it

Is this a ported sub enclosure?

Our glove box subwoofer enclosure not ported and is fully sealed.

Does this come with the amp or is it sold separately

This item number does not include an amplifier. If you would like to purchase an amplifier that would work with this, please contact customer service at 818-991-1778 and they can assist you with that.

Will it fit a 2015 900 S?

Yes, this should fit that year and model RZR

Would this fit a 2010 rzr 800 s?

Unfortunately no. We discontinued the subwoofer enclosure for that year, make and model. You may be able to locate the subwoofer enclosure online by searching for the part number RZ-UDS10

Will this work with my 200-WP3-RZ3O65 over head system?

Unfortunately it will not plug & play into that overhead. You would need a separate amplifier to power this subwoofer. If you are wanting to plug and play to the overhead, you could use this:

 

2014-up Polaris RZR Weather Proof Amplified 10" Subwoofer – SSV Works

Will this work in a 2018 Turbo S ?

Yes, this box will fit that year, make and model RZR

2023 xp 1000 ultimate?

Yes our enclosure does fit on the year, make and model RZR

will this fit a 2022 rzr 900 trail?

Yes, it should fit in that machine

Does it come with a amplifier

Unfortunately, no this item does not come with an amplifier. Please contact us at 818-991-1778 and we can go over the options of this subwoofer enclosure to be equipped with an amplifier.

I have a 2017 Polaris 900 trail. Will this fit?

Yes, this box will fit that machine