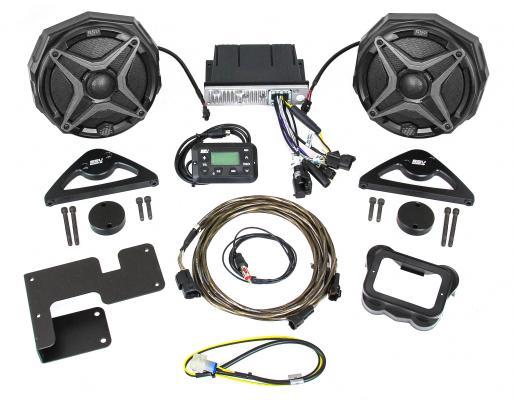 2015-2023 Can-Am Spyder F3 2-Speaker Audio Kit
---
Regular price

Price:

$799.99 USD

Regular price

Sale price

$799.99 USD

Unit price

per
View Vehicle Compatibility
2015-2023 Can-Am Spyder F3 2-Speaker Audio Kit
Note: Not compatible with windshield equipped vehicles
The backbone of the new Spyder F3 audio system from SSV Works is the MRB3 Bluetooth audio controller. Designed with simplicity and durability in mind, the rugged MRB3 display is mounted on the handlebar with a billet clamp and shell. The MRB3 is weatherproof by design, allowing you to enjoy your tunes regardless of Mother Natures mood. The MRB3 controller features wireless Bluetooth connectivity and AM/FM radio with built-in controls. Simply link your phone, put it in your pocket, and enjoy hours of streaming music controlled from the handlebar-mounted unit.

The compact system places two 6.5" speaker pods on either side of the gauge cluster for clean, rear-facing sound that is crystal clear even at highway speeds. Speaker options include SSV Works own 6.5" woofer/tweeter combos, or an upgraded Kicker 6.5" speaker set for an extra $100. The billet mounts both beautiful and strong, with a texturized coating on the speaker pods that matches the Can-Am's matte bodywork trim panels.



Speakers:
SSV Works Premium Marine speakers: The SSV Works 6.5" marine grade powersports speaker is rated at 60 watt RMS/120 watt peak power, with a 4 ohm impedance rating perfect for today's high-power amplifiers. The crisp sound gains added punch from a grill-mounted coaxial 25mm tweeter, mixing ultra-clear high notes with rich, smooth mids and lows from the high-tech woofer.

Kicker KM Marine Speakers: Spectacular highs and midrange sounds provide full-range audio specifically for a marine environment - 6.5" 195 watt (65w RMS) 2-way coaxial speakers.

SSV Works Speaker Grill Color Add-On:
The SSV Works speaker has another great feature- a mesh grill with interchangeable color inserts. The inserts are swappable in just seconds, allowing you to custom-match the speakers color to the rest of your side-x-side. Choose from Blue, Orange, Red or White. Sold in pairs. .(not compatible with Kicker speakers)
SSV Works speakers feature a unique positive lock connector to prevent speaker wire detachment inside the enclosure. No matter how hard you drive, your speakers will keep on rockin'.
Fits the SSV Works MRB3 unit
No cutting required
No files To download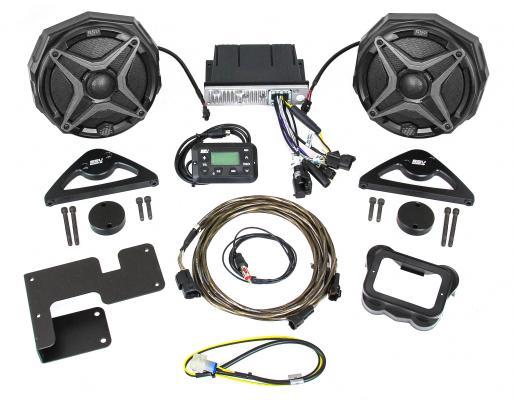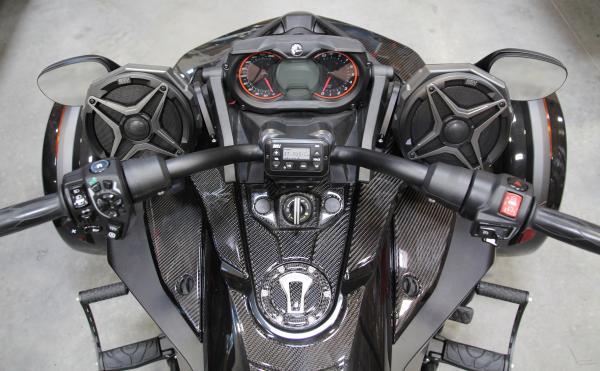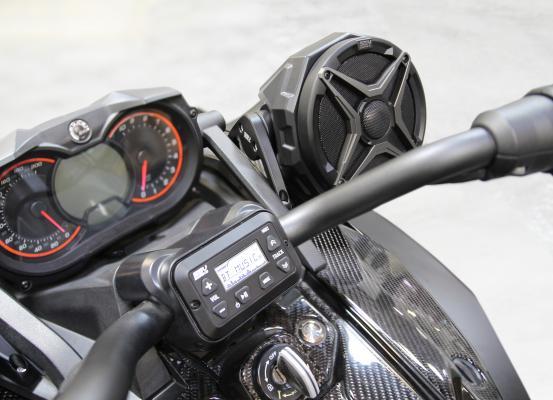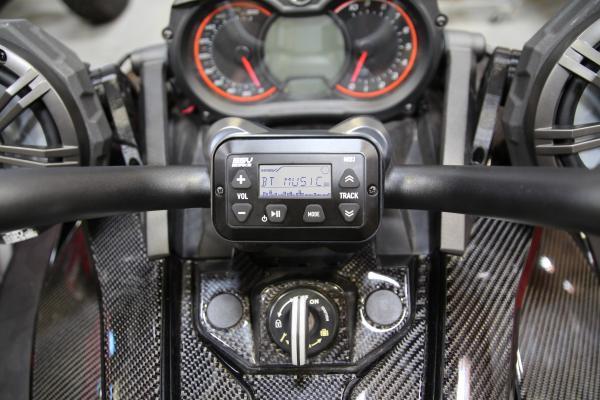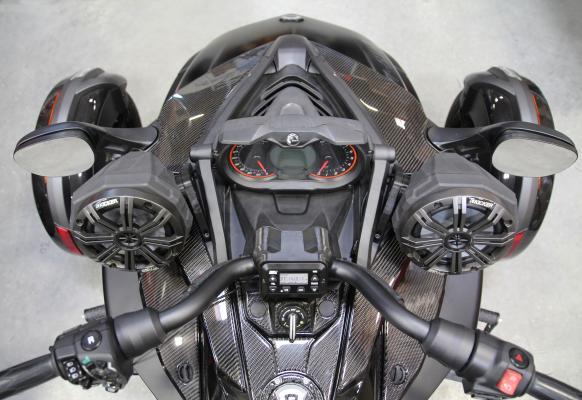 Where is the power plug on the can am?

Our stereo kit for the Can-Am Spyder gets it's power directly from the battery

I have a 22 F3 S. I know it says will not work with windsheild equipped vehicles. I don't understand why. I've looked at several pics. And compared them to my bike and it looks like it will work. I have a 7jurok wind sheild that uses a route 129 mount. Can I get some more info to verify this?

Unfortunately we cannot say for certain that the windshield you have will work or not. There is a possibility, and the best thing to do would be to reach out to our customer service department at 818-991-1778 and they can assist you with fitment with that windshield.

what is the warranty. thanks

The warranty is as follows:

1 year warranty on electronics

'Limited Lifetime" warranty on SSV Works speakers

1 year warranty on Kicker speakers

can you add amplifier to this audio kit for the can am spyder f3

Yes. By using the following adapter WP-HRCA, you can convert thug from the brain/amp inside the storage compartment in the Spyder to RCA's. Here is the link for that:

Can you purchase two extra speakers for the system?

Yes, it is possible to purchase 2 more speakers for this system. Please contact our customer service team directly at 818-991-1778 and they can go over the options available for that.

Will this item fit a 2015 can am sypder rss

Unfortunately it looks like this system will not fit that model Spyder

I have 2010 can am spyder RS is this kit compatible can I make this work for me

Unfortunately not. This kit is designed to fit the 2015 + Can-Am Spyder

Can you purchase individual parts for this set

Unfortunately most of the items in the kit are only available in the kit.