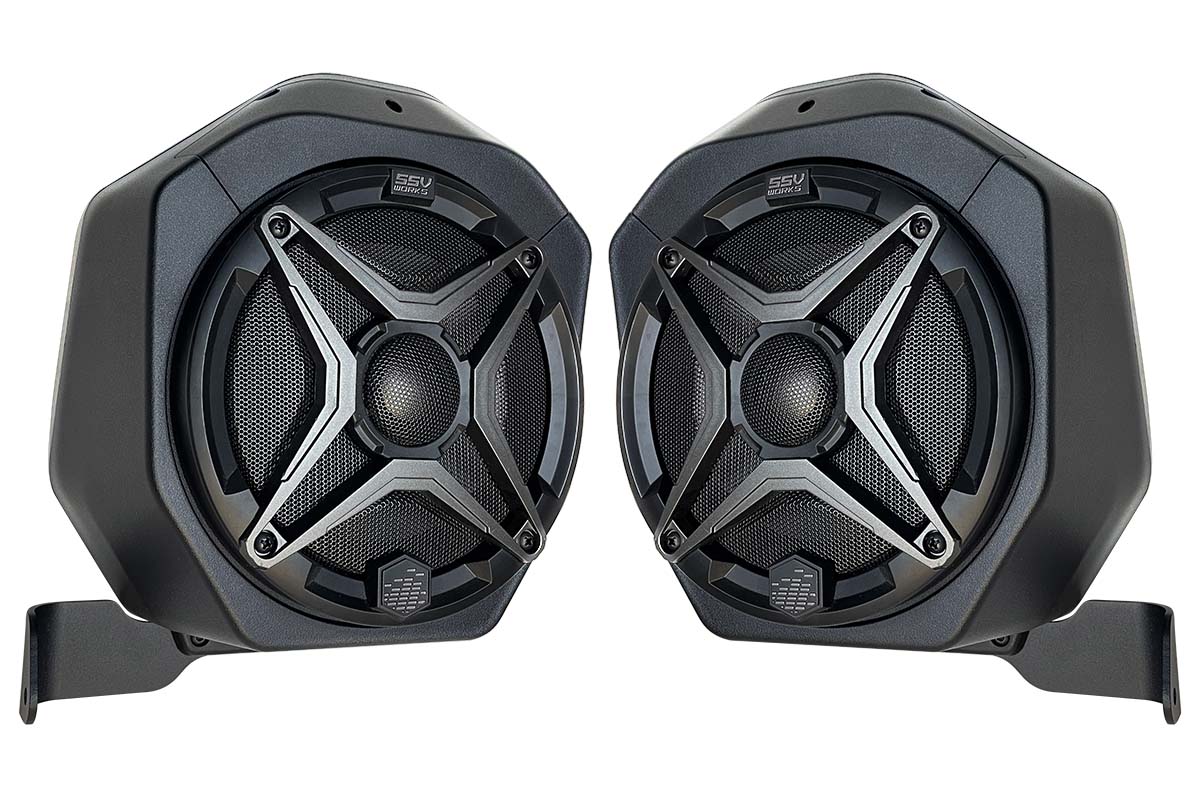 2021-2024 Ford Bronco 4-Door Rear Speaker Pod 6.5in Upgrade
---
Regular price

Price:

$339.99 USD

Regular price

Sale price

$339.99 USD

Unit price

per
View Vehicle Compatibility

Compatible with both standard and B&O factory audio systems

2022-2023 Bronco 4-Door Base
2022-2023 Bronco 4-Door Big Bend
2022-2023 Bronco 4-Door Black Diamond
2022-2023 Bronco 4-Door Outer Banks
2022-2023 Bronco 4-Door Badlands
2022-2023 Bronco 4-Door Wildtrak
2022-2023 Bronco 4-Door Everglades


2021-2024 Ford Bronco 4-Door Rear Speaker Pod 6.5in Upgrade
The Ford Bronco comes with a small, cheap speaker in the rear attached to the factory roll-cage. The SSV Works Rear Speaker-Pod upgrade allows you to replace those factory speakers with a set of larger, more powerful 6.5" weatherproof speakers.
Plug-&-Pay: By replacing the factory speakers, we utilize the factory harnessing. You know what that means right? Of course, our Bronco Speaker-Pods are a full plug-&-play installation on both standard and B&O factory systems.
These speakers are injection molded out of ASA plastic for maximum strength and ability to withstand extreme hot and cold temperatures. Metal support plates are made of 2mm powder coated mild steel and add additional mounting points that help make installing the speaker converts a breeze.

Configure:
6.5" 120w SSV Speaker
Unloaded (No Speakers)
Limited Lifetime Warranty (On both the SSV Works Speakers and Pods)
Currently not compatible with 2-Door Bronco's and Bronco Raptor.
*Patent Pending
Coming Soon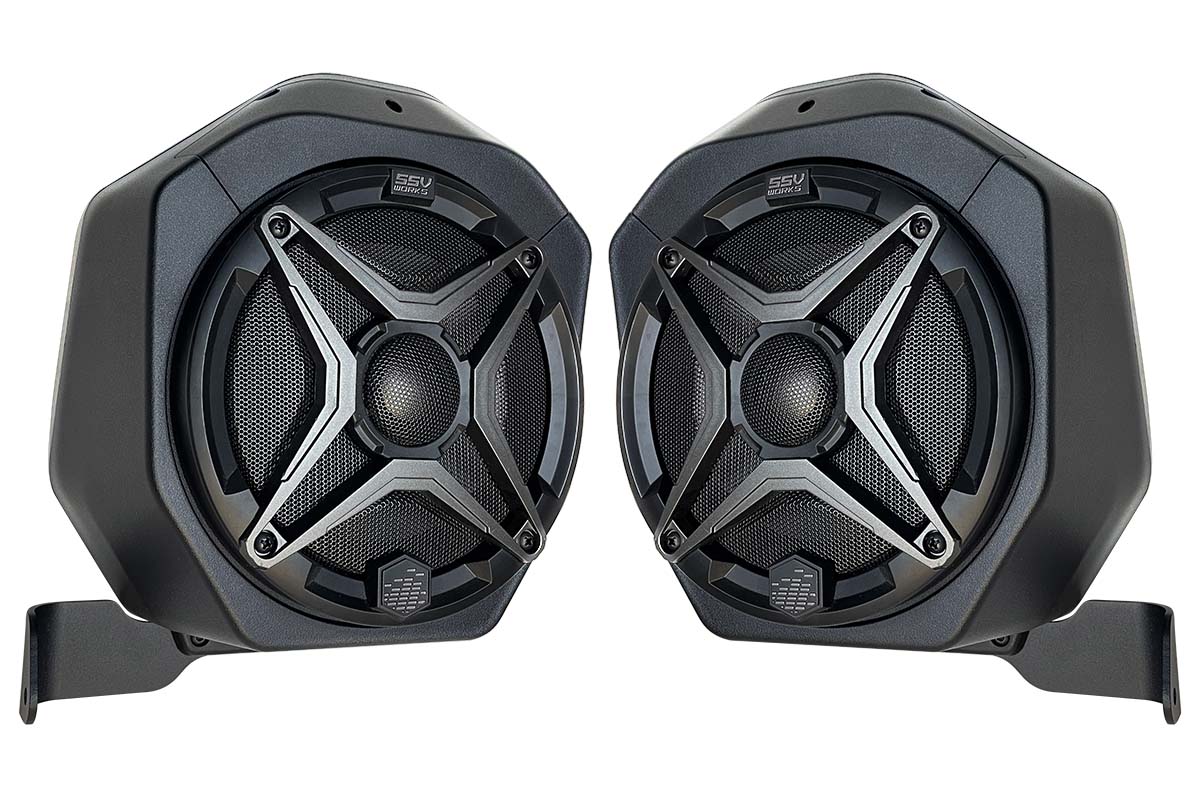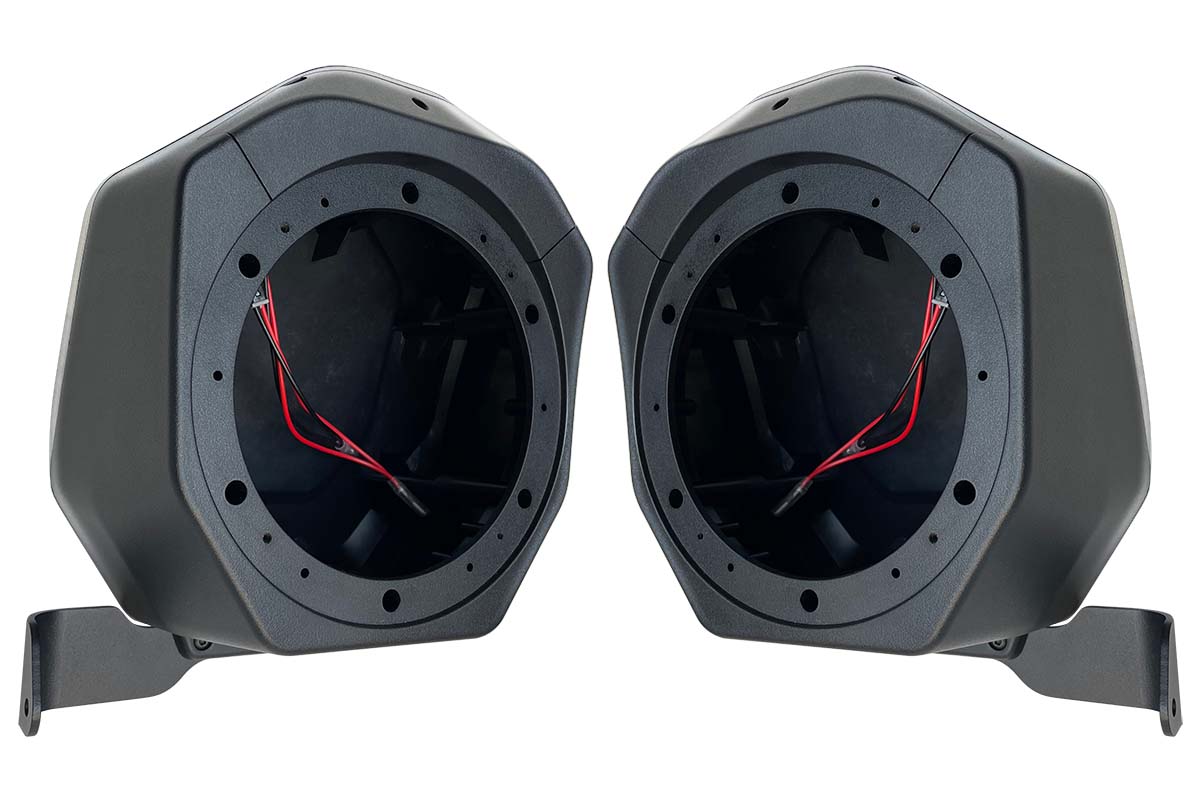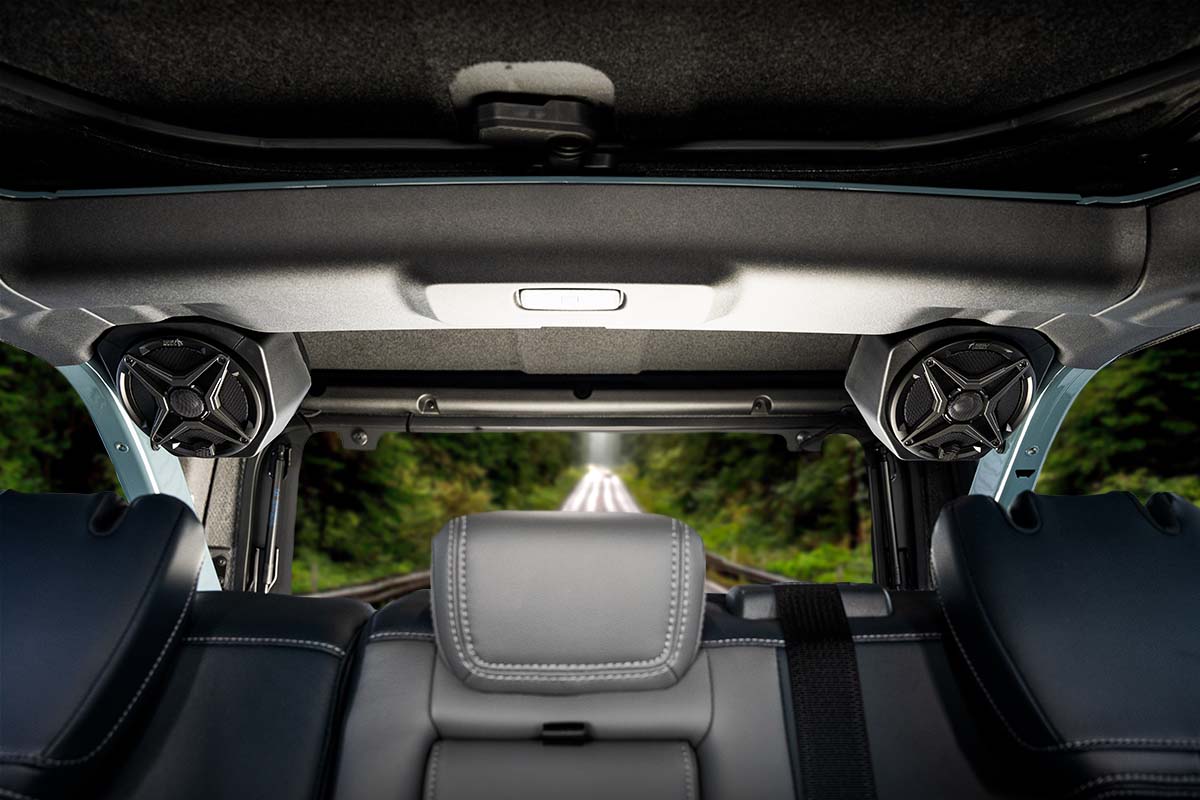 How do you get the different color faceplates for the pods?

The only option for grill color chnagers would be the Chroma Star Grills for the SSV Works A6 speakers. Those can be found at the link below:

 

Interchangeable Color Grilles for SSV Works 6.5" Speaker (1 Pair)

 

 

Will this provide any base, I have the stock crappy 22 speakers. Will I need an Amp or do these need to be flashed at the dealer.

The Bronco pods with 6.5" speakers will add a little better sound to your stock system. Depending on the sound quality you are trying to gte them to, you may need to have an amplifier added or you can have a 12 volt audio shop update the system and flash it

What model or brand are the 6.5 kickers speakers

They are the Kicker Marine KM Series 6.5" coaxial speakers

I had a 2 Door Bronco with SSV Pods. I have recently traded my 2 Door for the 4 Door version of the Bronco. Will I be able to utilize the pods? Do I need new hardware swapping from the 2 Door to the 4 Door?

We include the brackets with the speaker pods for a 2 door Ford Bronco. When swapping from the 2 door to the 4 door, you will no longer need the supplied brackets since you will need to use the factory brackets on the 4 door

I purchased your ssv speakers for my 2023 bronco a while back. After speaking with someone over the phone I chose the upgraded kicker version. They are currently installed on my bronco. After looking at your website today it now says these same speakers are not compatible with 2 door broncos? Why are they not compatible and why were they recommended for my vehicle then?

We had to make the note on the 4 door models because consumer's were purchasing the pods for their 2 door Bronco, even though it stated 4-door. The pods are the same for the 4 door as they are for the 2 door, however, our pods will come with special brackets when the speaker pods are ordered under the 2 door part number BR-2BR65

Hi, are these just the pods or do they include speakers? Are Kickers speakers an option? Thanks!

When purchasing the pods, you do have the option of purchasing them 'Unloaded", "loaded w/ Kicker speakers" or 'Loaded w/ SSV Works speakers"

I need this for my Bronco Raptor! Is this coming anytime soon? The factory rear speakers are absolute garbage.

Unfortunately we do not have anything for the Raptor edition at this time. We have relayed the information to the engineering team on the importance of this item for that edition and they may be looking into designing something in the future

Will it fit in the space with extra brace on the bronco raptor?

Unfortunately, our pods will not work on the Raptor Edition

Are the SSV speakers weather proof?

Yes, the SSV Works are Marine Grade and Weatherproof

When can we expect the 2 door version

2 Door Bronco Pods are available now. Copy this link into your web browser:

 

2021-2023-ford-bronco-2-door-rear-speaker-pod-add-ons – SSV Works

Same fit whether hard top or soft top?

Should be no issue with fitment

Are the kicker speakers model # 45KM654

Yes, they are that style speaker

Can kicker 48KMXL654's fit in the unloaded?

Resally hard to say whethwer or not they will fit. We have not test fitted the speakers ourselves

What's the difference between the works and the kicker? Thanks

The Kicker speakers have a little more clarity at a high volume and the SSV's are backed a "Limited Lifetime" warranty

Does the SSV Works come with Speakers, Covers and Speaker Boxes for $339.99. Please make more clear.

The SSV Works speakers have their own style grill already installed on the speaker. The cover does not look like the factory speaker cover. 

 

 

Will the back speakers have to be flashed to get full bass sound once installed?

Questions regarding sound quality, adjustments, etc. it would be best to reach our customer service department directly at 818-991-1778

It comes with the speakers

The Bronco pods can be ordered "Unloaded" w/ out speakers, or they can be loaded withy SSV Works 6.5" speakers or 6.5" Kicker speakers

I have a 2023 badlands 2 door with the crappy speakers in the back. What is different about my speakers that won't work?

Please contact our customer service department at 818-991-1778 and they can assist you with some troubleshooting or replacement options

What kicker speaker model comes in the loaded option?

Kicker KM Series 6.5" speakers

Do the unloaded pods come with the speaker covers?

Our unloaded speaker pods do not come withy any speaker grill covers

is a 2 door version still planned?

Yes, a 2 door version is still in the works

Do these require an addition of an amp or other hardware?

They do not require adding an amp or hardware. They're designed to be plug-&-play with the factory system. Although, you can add an amp if desired.

I love these but I might be getting a new hard top from Advanced Fiberglass Concepts. It looks like these are molded to fit just inside the OEM hard top, though. We'll have to wait and see, but is there any dimension info I can pass along to ask them? Thanks.

Unfortunately, we do not have dimensions available at this time. Please contact customer service at 818-991-1778 and they may be able to assist you more

So does it come with speakers and the pod encasing?

Our pods can be ordered "unloaded" (without speakers), "loaded w/ SSV speakers" or "loaded w/ Kicker speakers"

Does my Bronco need to be flashed at a dealership to get full capability after install?

No. These pods are plug and play and ready to go right after install

The factory pods have cotton batting inside I am told. Do you or should I do the same in your pods? I am also thinking of installing kicker key 200.4. This will power all speakers what speakers do you recommend.

We do not put any cotton batting inside of our pods. It is not "necessary" for it. However, it is up to the consumer whether or not they would like to use it. Regarding recommendation of speakers, either speaker works great. The Kicker speaker option is a little cleaner at a higher volume and has a 1 year warranty. The SSV Works A6 speakers sound pretty good as well and they are backed by a "Limited Lifetime" warranty.

Will these work with 2 door bronco? Do you have a set that will work with the 2 door?

Unfortunately these pods do not currently work on the 2 door models.

Is on vehicle door storage still capable with these speakers/pods installed?

Unfortunately we have not verified that they are capable with that at this time

Are these the same size enclosures as the stock ones or are these bigger due to bigger speakers?

The enclosures are close to thre same size, but have a different design and they allow for you to upgrade your stock speakers from the 4" to 6.5" speakers

Can these fit on the 2 door?

Unfortunately, they do not fit on the 2 door at this time

Do these fit the 2022 and 2023 Bronco Raptor 4-door? The Raptor has an additional cross-member support near the rear pods.

Unfortunately no they will not work on the Raptor at this time

Do these come in a pair?

Yes, these are sold in pairs

Are these speakers compatible with the 2021 4 door Broncos?

Yes.

Whats the warranty on the ssv speakers vs kicker? and are they the same spec's?

SSV Works speakers are backed by a "Limited Lifetime" warranty and the Kicker speakers are backed by a "1 year". 

SSV Works speakers are 120 watt peak / 60 watt RMS and the Kicker speakers are 195 peak / 65 watt RMS

How good is the ssv speaker compared to the kicker speaker? Is it outdoor rated, what type of material is speaker and excursion ring? What quality of sound does the speaker have? Don't say anything about the quality of your own speaker,just advertise the kicker brand. Doesn't make me want ptompurchase the ssv brand.

The Kicker speakers do have a little more clarity at a high volume. The speaker ratings are:

SSV Works:   120 watt peak / 60 watt RMS (Limited Lifetime Warranty)

Kicker:           195 watt peak / 65 watt RMS (1 year warranty)

Both are marine grade and weatherproof

Do these fit the Raptor with the extra brace?

Unfortunately, our speaker pods do not work on the Raptor at this time

What model of kicker speaker?

They are the Kicker KM Series 6.5" marine speakers

Will these fit 2 door and 4 door broncos?

As of right now, the pods only fit the 4 seater model. The roll cage for the Bronco is slightly different on 2 seater. Our engineering team is looking into what needs to be done to make these work on a 2 seater as well. We should have something available soon.

Is this for the non B&O system?

These can be added to the standard or B&O factory Bronco system, or you can wire them minto an aftermarket amplified system

Whats the mounting depth of the unloaded enclosure?

3"