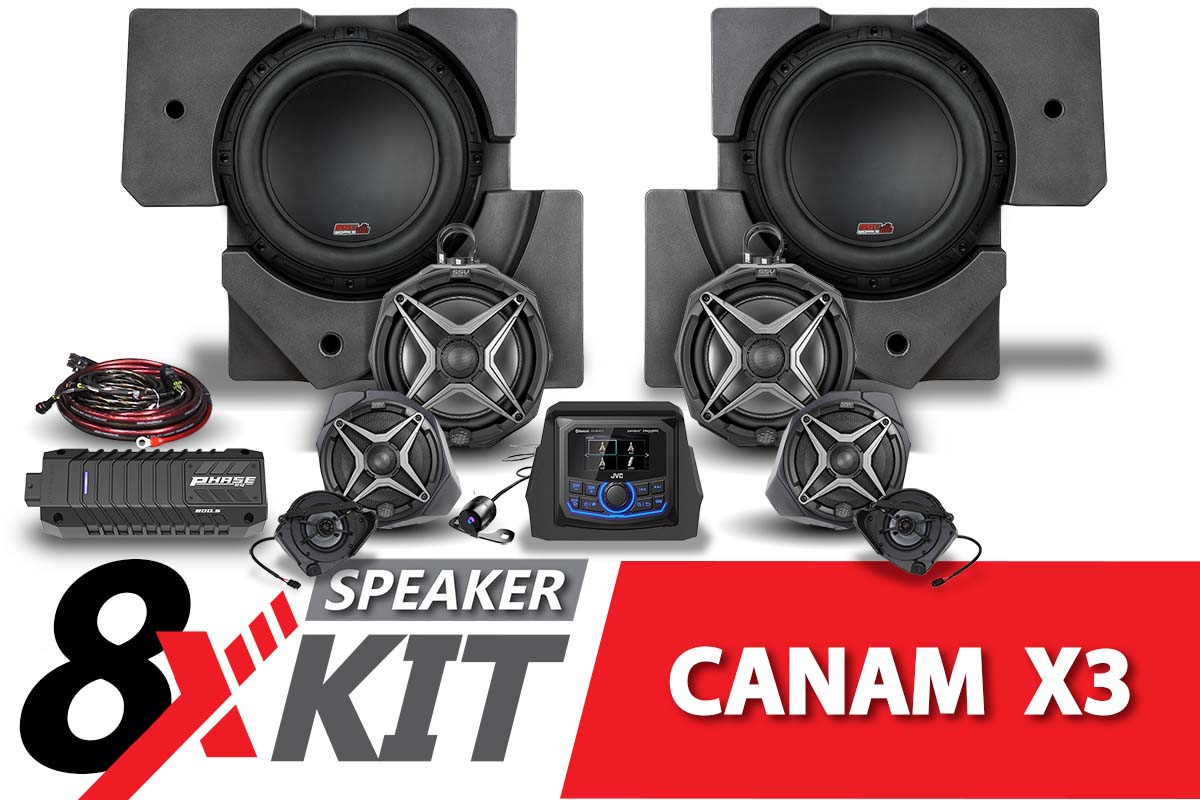 2017-2023 CanAm X3 Phase X 8-Speaker Plug-&-Play kit w/JVC
---
Regular price

Price:

$4,169.99 USD

Regular price

Sale price

$4,169.99 USD

Unit price

per
View Vehicle Compatibility

2018 X3 900 HO
2018-2020 X3 Turbo
2017-2019 X3 Turbo R
2021-2022 X3 ds Turbo
2020-2022 X3 ds Turbo R
2022 X3 ds Turbo RR
2020 X3 rs Turbo R
2022 X3 rs Turbo RR
2017-2019 X3 X ds Turbo R
2020-2022 X3 X ds Turbo RR
2018-2021 X3 mr Turbo
2018-2019 X3 mr Turbo R
2020-2022 X3 mr Turbo RR
2018-2021 X3 rc Turbo
2022 X3 rc Turbo RR
2017-2019 X3 X rs Turbo R
2020-2022 X3 rs Turbo RR

*Not compatible Smart-Shox equipped X3's

Plug-&-Play Phase X Kit for Can-Am Maverick X3
SSV Works is the first company to integrate audio in side-by-sides, we have pioneered all the great features you find in audio-systems today. From plug-&-play kit solutions, true weatherproof ratings, to factory fit and finishes, SSV has set the standard in UTV audio from the very beginning!  
Phase X: The tip of the sword for UTV audio by SSV Works, the ultimate throwdown. If you're looking for the loudest, best sounding audio-system for your side-x-side, here you are! We max out all possible speaker and subwoofer locations as well as upgrade your cage-pods to our 8" Powersports Speaker.

Plug-&-Play: No Soldering, cutting or crimping! Designed to install as easy as possible. Simply bolt down the speaker enclosures with the pre-installed speakers, run the vehicle specific plug-&-play wiring, turn the key and go! Made to install as easy as possible, you spend less time wrenching and more time riding! 
Factory Fit and Finish: Each kit looks just the way it should, like it came straight from the factory. Purpose built, our enclosures match the factory styling and fits with seamless precision.
Trail Ready: Built for the off-road environment, SSV Works' audio components will withstand all the harsh riding conditions. From sand, dust, water or snow, you can ride your favorite trails without sacrificing premium audio from SSV Works.
Premium Quality: Our kits include our patented Phase EQ™ amplifier and Rock 'N Ride™ switch to power your new audio kit for your UTV.
Phase EQ: Experience true audio excellence with our Phase EQ amp, setting a new standard in sound customization. Unlike other companies that simply set gains and a few settings, our amp features Digital Signal Processing (DSP) tuning specifically tailored to your vehicle and audio kit. This advanced technology optimizes frequencies to deliver the absolute best audio performance, regardless of your riding style. Comparable to the sophisticated audio processing found in luxury on-road vehicles, Phase EQ maximizes power output, outperforming larger and supposedly more powerful amplifiers. Remember, more watts don't always mean better or louder sound quality. Trust Phase EQ for an unparalleled audio experience.
Rock and Ride: Our patented new switch comes with every Phase EQ amplifier. It fits in your standard rocker-switch location and allows you to switch between multiple audio profiles.
Ready to hit the trail? select RIDE and the amp will process the audio to compensate for wind and engine noise, as well as boost the frequencies would lose from wearing your helmet, achieving the most energized listening experience in the cab, while riding.
Back at camp? Hit ROCK to switch to a profile tuned to sound more optimal outside of the vehicle. This provides the fullest sonic and most optimal sound while you're cracking a cold one by the fire.  

Included:
MRB3 Bluetooth Media-Receiver w/X3 Dash Kit
4" Front Dash Kicker Speakers
6.5" Front-Kick Speaker-Pods w/SSV Works Speakers
8" Rear Cage-Mount Speaker-Pods w/SSV Works Speakers
(2) 10" Subwoofer-Enclosure with Kicker Comp RT Subwoofer
Phase EQ Amplifier with Pre-Mounted Direct-Fit Amp Mounting Plate
Plug-&-Play Wiring Kit
Patent: #10117008
Coming Soon
No files To download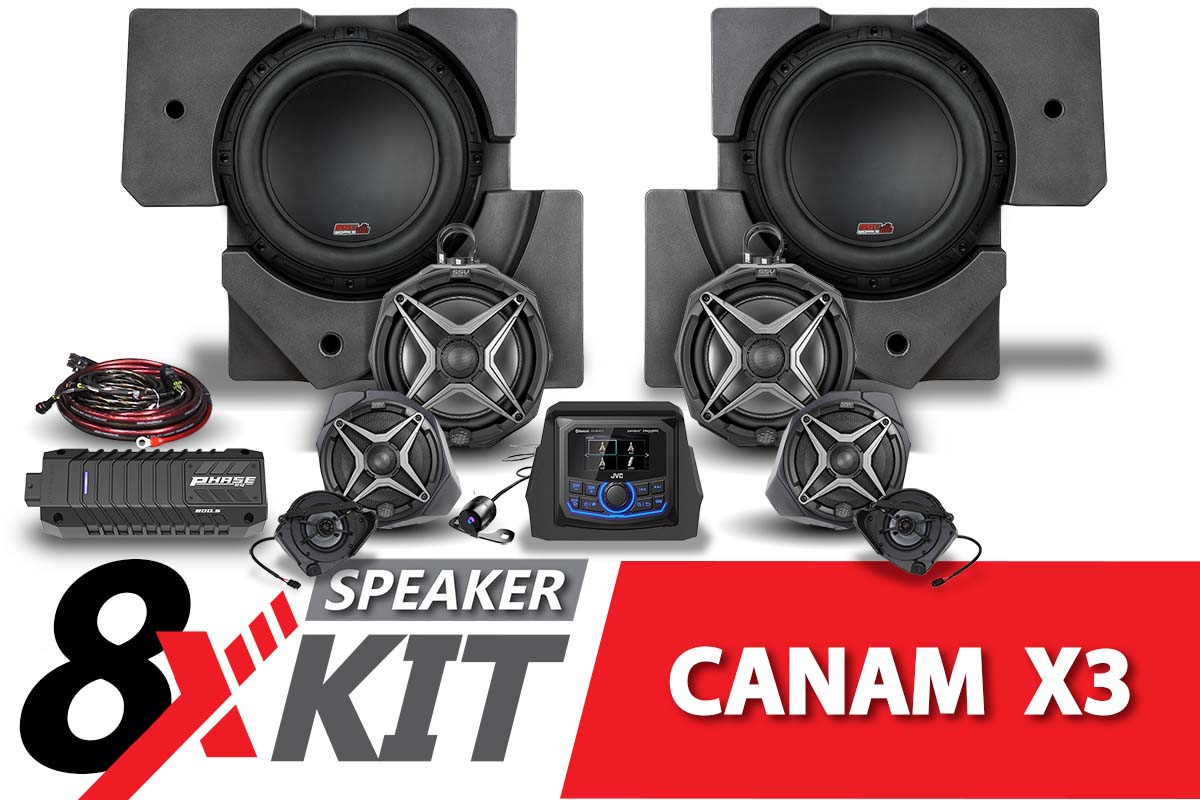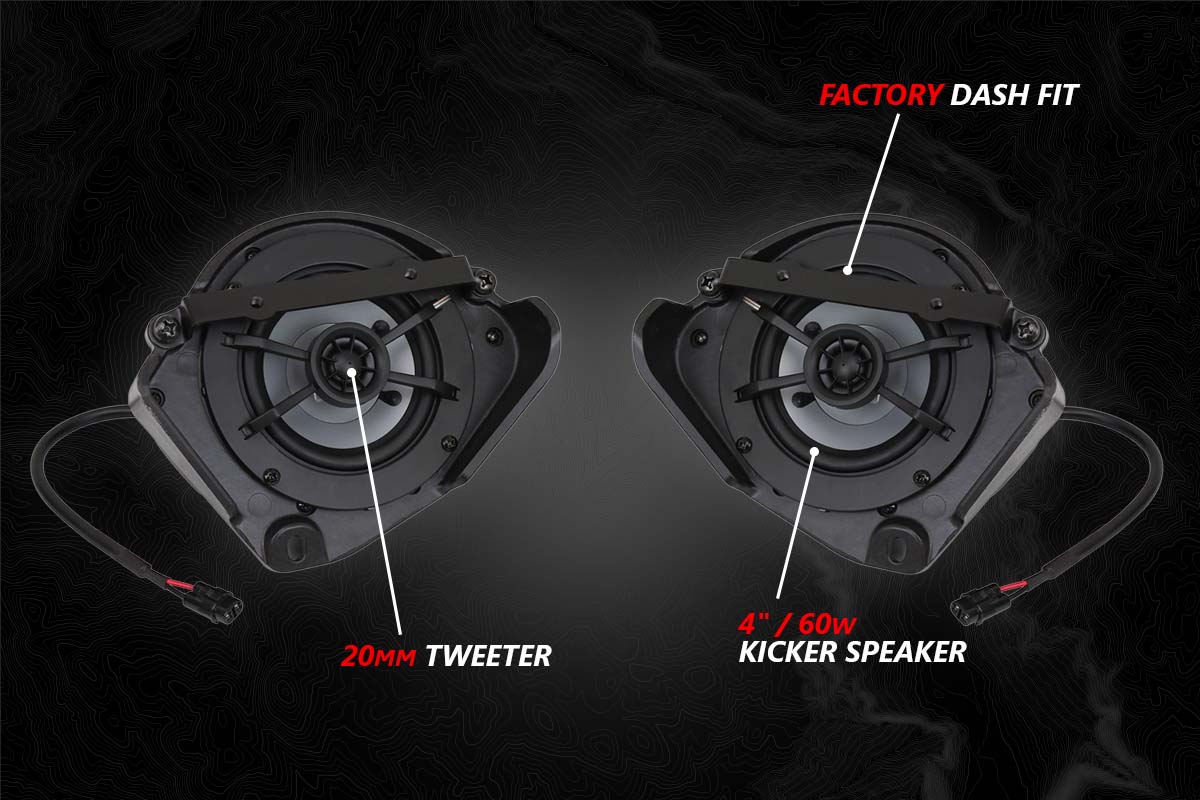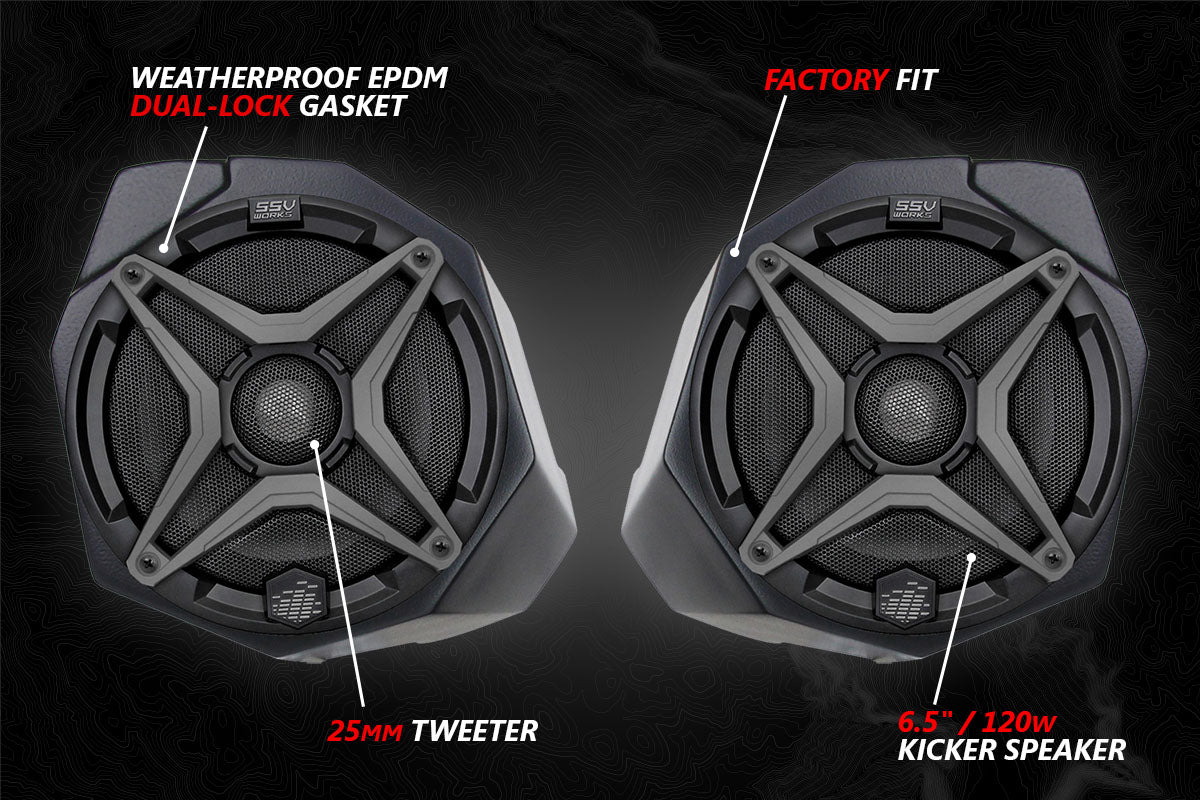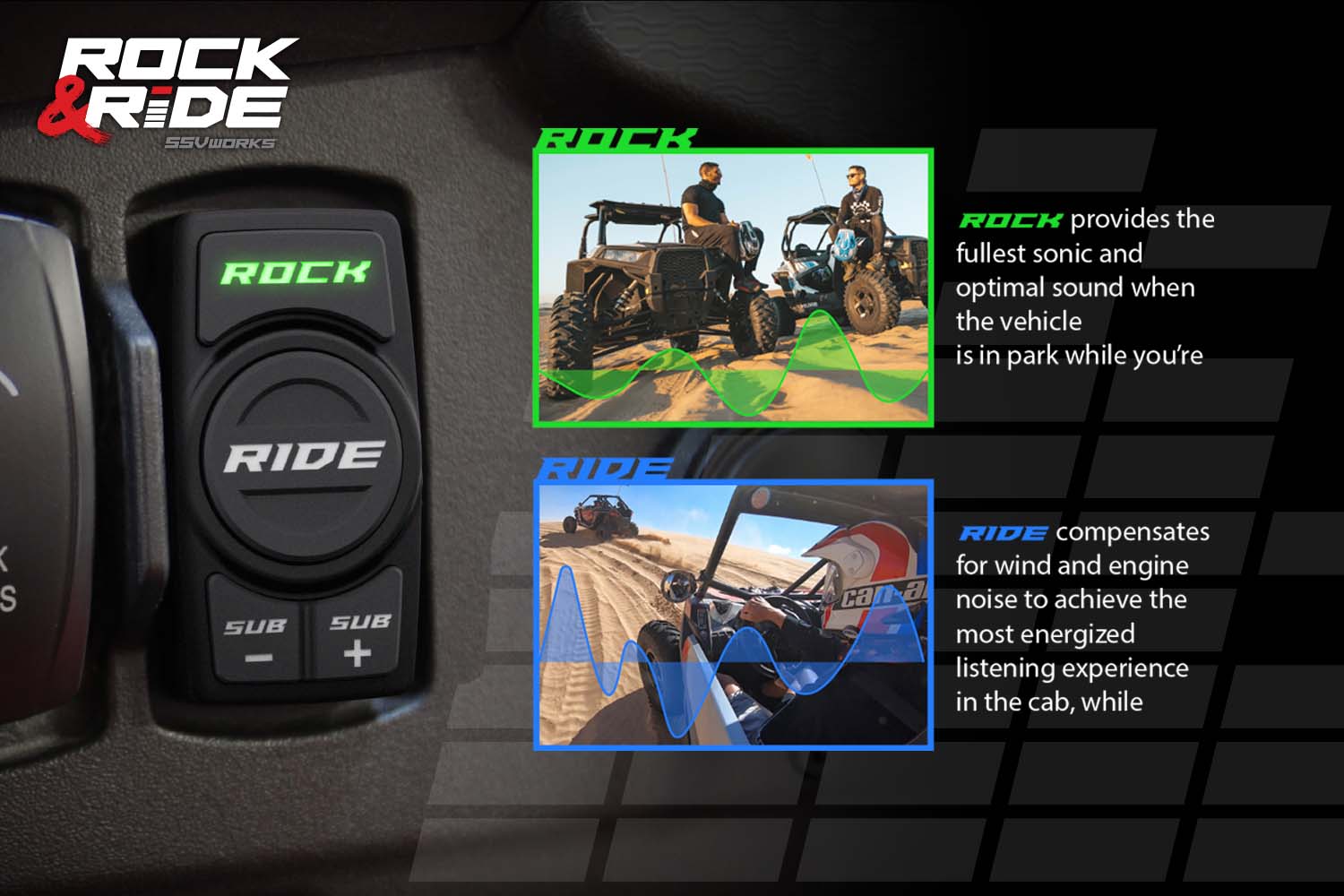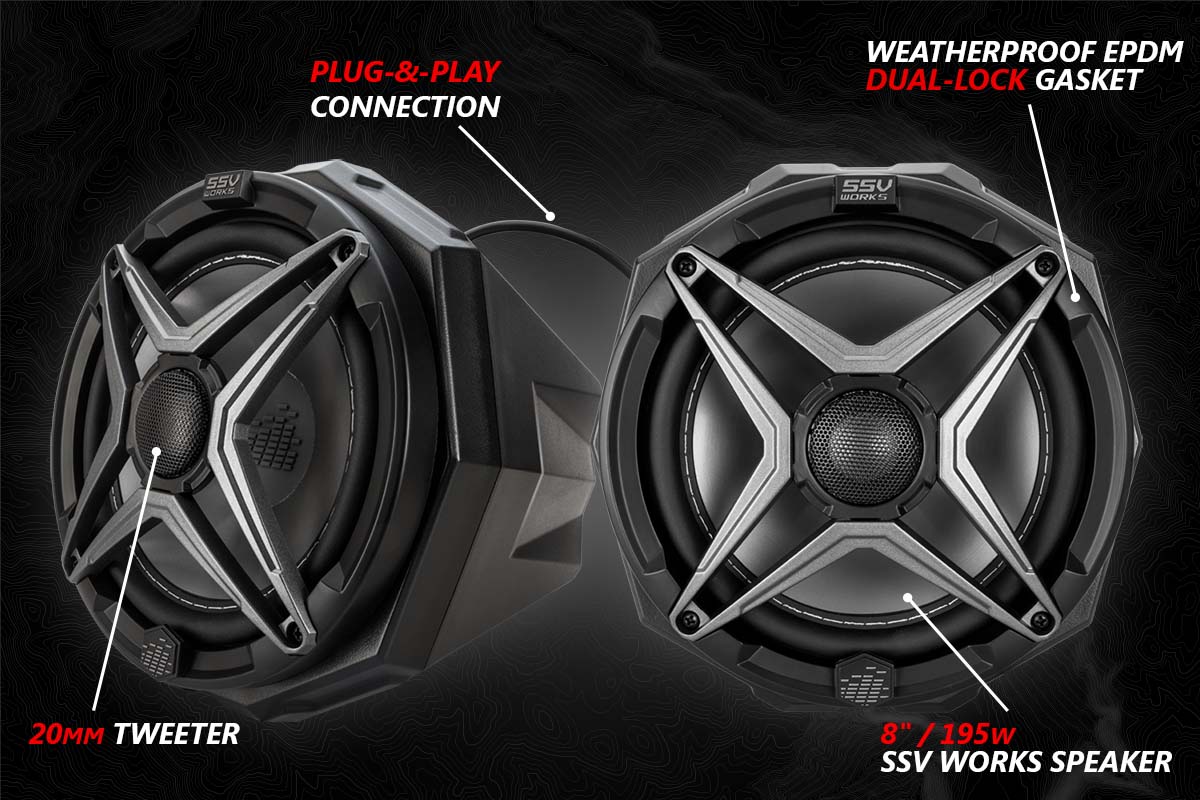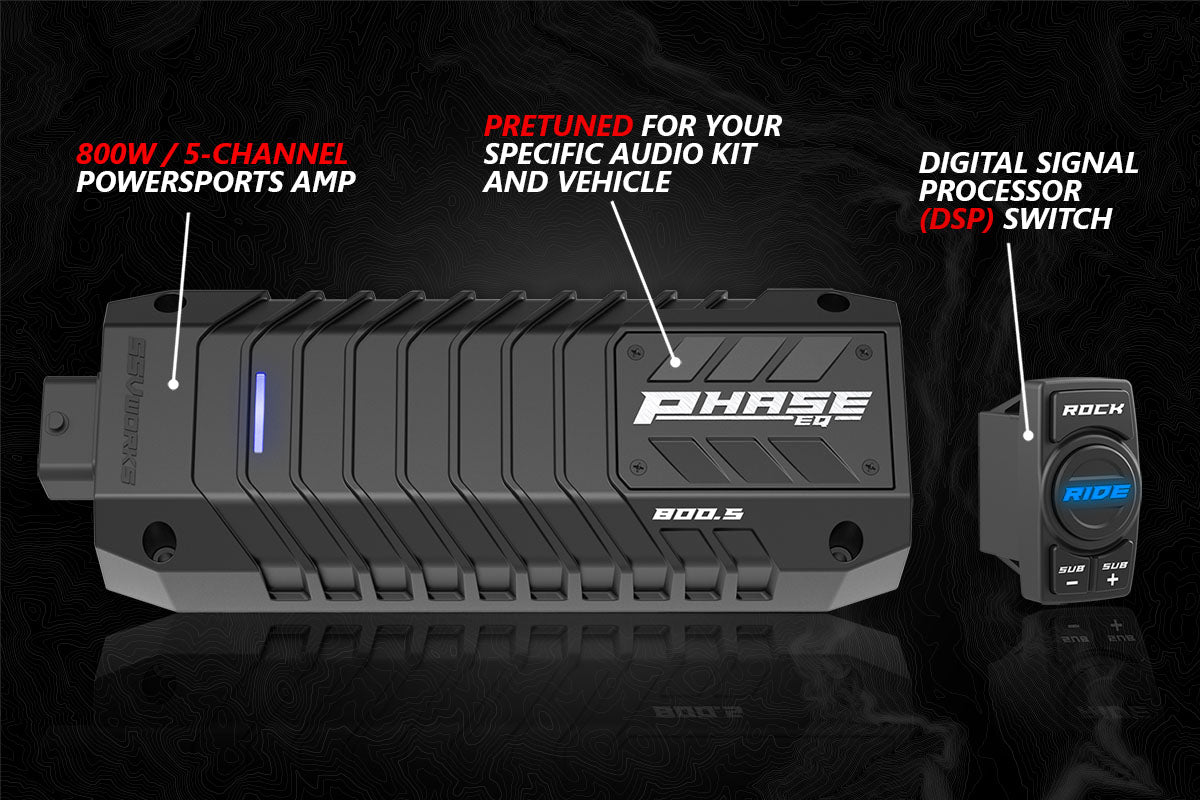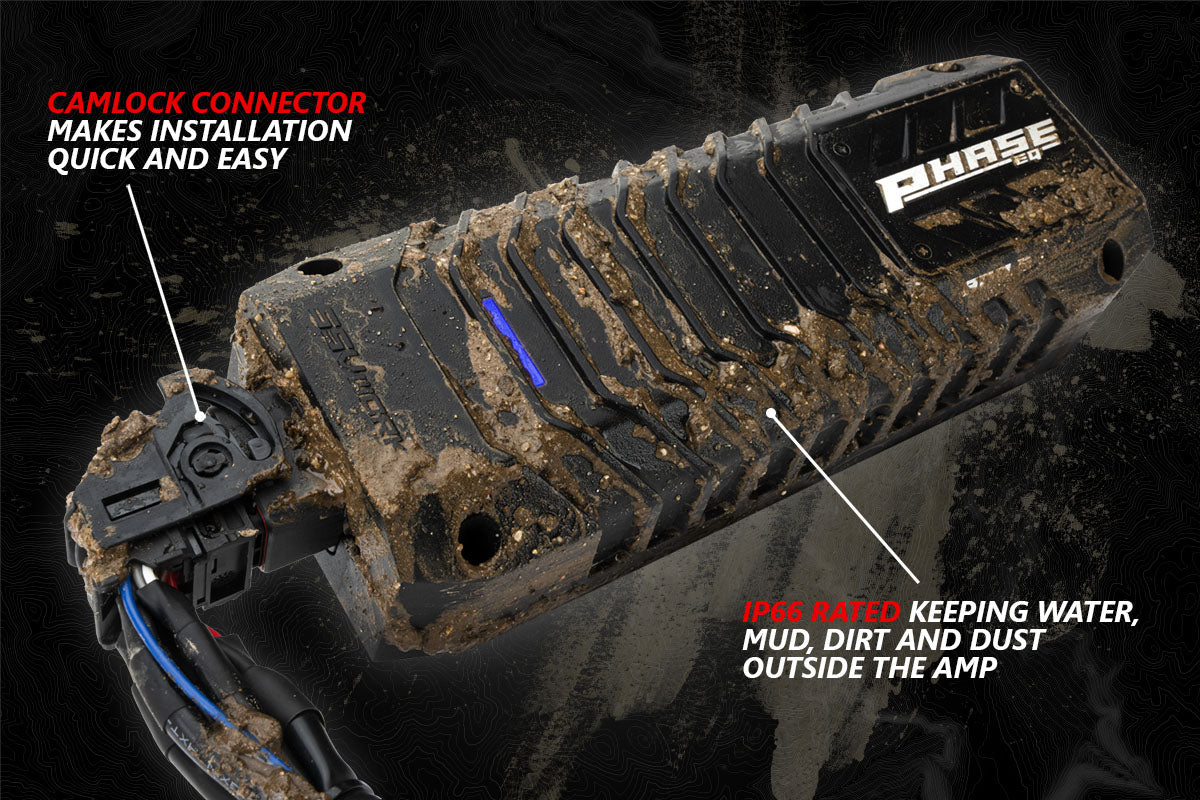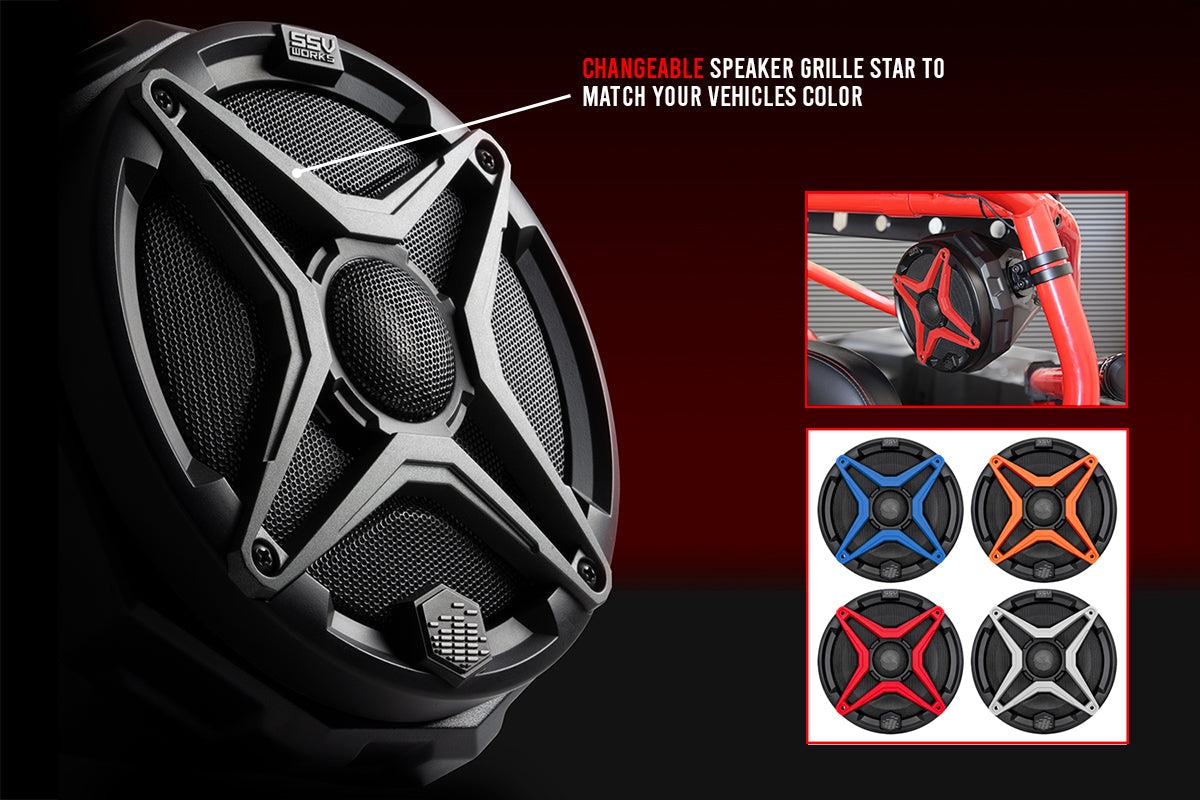 Do you need a second battery for this system

Depending on the amount of accessories you have on your machine, and then adding a stereo system, it would receommended to upgrade your battery or do a dual battery setup